Japan's Govt. Sets Up Task Force To Fight Outbreak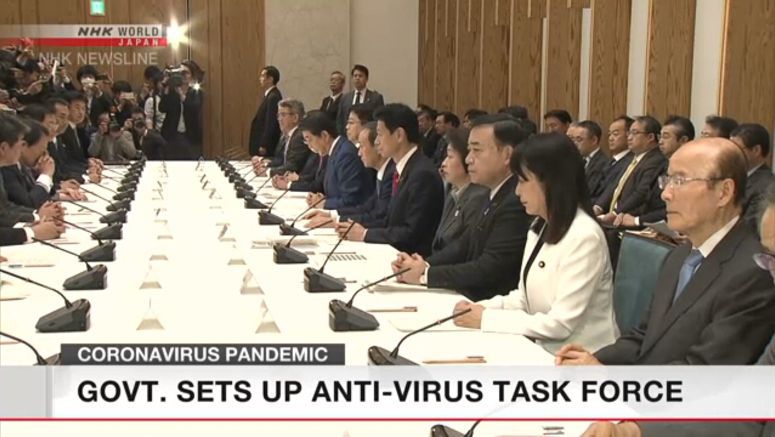 Japan's government has launched a new task force to fight a growing coronavirus outbreak. The move paves the way for the Prime Minister to declare a state of emergency based on a newly enacted law.
Shinzo Abe said, "In order to overcome the challenge our country is now facing, the state, local governments, medical workers, business operators and all residents need to be united and push ahead with measures to tackle the illness caused by the new coronavirus. I want the minister in charge of the special law, the health minister, and other relevant ministers to swiftly come up with basic guidelines."
The task force will create those guidelines using expert opinions on how to prevent the spread of infection and step up medical care.
If the government finds there is a serious threat to public health and the economy, it can begin steps to declare an emergency for a designated area and time.
If that happens, governors will be able to order schools closed and limit the use of facilities where many people gather, for example department stores and movie theaters.
Governors could also urge residents to stay at home, but the health ministry says there would be no punishment for those who ignore the request.
Early indications suggest that any restriction on businesses and people's movements would last for three weeks.
An emergency declaration would also enable governors to seize land and buildings for emergency medical facilities -- without the owners' consent. They would also be able to compel companies to sell necessary medicine and health care equipment to the state.
Also on Thursday, the governor of Tokyo met the prime minister to ask for help fighting the virus.
Yuriko Koike said, "We will do whatever we can to prevent an explosive spread of infection, working closely with the central government. I came to ask the prime minister for help in that effort."
Koike says Abe gave a "strong response" to her request. She asked him to promptly provide information on how the central government can help her prefecture.
Meanwhile, the government is stepping up travel restrictions. Starting on Friday, the country will deny entry to foreign travelers who have recently been in Iran, Italy, Spain, Germany or 18 other European countries.
Japan has now confirmed over 1,300 coronavirus infections. That does not include more than 700 cases from the Diamond Princess cruise ship.
Forty-six people have died... along with ten from the cruise ship. More than 900 people have recovered and left hospital.