Japan's Ldp Kicks Off Leadership Election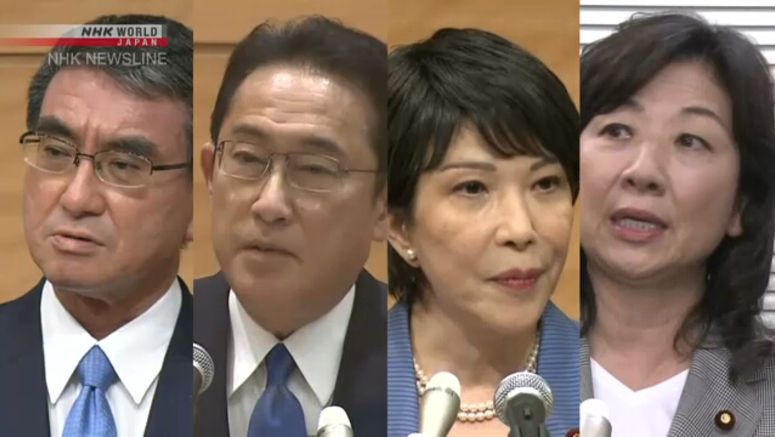 The race to lead Japan's main governing Liberal Democratic Party has officially begun. Candidates quickly got to work, laying out promises and vying for endorsements. The winner is virtually assured to be the next prime minister.
Four candidates are running in this election.
Kono Taro is the current regulatory reform minister and is in charge of Japan's coronavirus vaccine rollout.
Kishida Fumio was the chair of the LDP Policy Research Council, and, before that, a foreign minister.
Takaichi Sanae is a former internal affairs and communications minister. She also chaired the LDP Policy Research Council.
Noda Seiko is the LDP executive acting secretary-general and was also an internal affairs and communications minister.
The four candidates called for support as campaigning kicked off.
Kono Taro said, "We must fix divisions in our society and overcome those divisions, to put Japan back together once again, to create a society with 'warmth' where people stand side by side. I will push open this heavy gate that stands in front of me. With all of your support, I want to become the leader of this country and move Japan forward."
Kishida Fumio said, "I am very confident that I am a leader who is in step with the times. I will directly communicate with the public and party members.
I'm determined to do all I can throughout this race to regain public trust towards the LDP and rebuild a sense of unity among all Japanese people, which is wavering because of the coronavirus pandemic."
Takaichi Sanae said, "Now the battle has begun. I'm surrounded by my strongest allies, who agree with my policies towards national governance and the creation of a stronger economy, regardless of factions. We will make Japan a beautiful, strong and growing country. I will do my utmost to win."
Noda Seiko said, "Politics is not implemented by a strong leader. The LDP, as a party representing the people, takes pride in involving many people and bringing them joy. A country should not only be strong, it should be a tolerant one where everyone can say they're happy to have been born and that it's worth living here. I want to convey this message firmly, especially because we are in the midst of the coronavirus pandemic."
There are 766 votes up for grabs in the election. Half are direct votes from LDP Diet members. Another 383 votes will be decided on by rank-and-file party members across the country. These are allocated based on proportional representation.
The party will elect its new president on September 29.
On the following Monday, Japan's government plans to open a Diet session so lawmakers can choose the successor to Prime Minister Suga Yoshihide.