Japan's Mount Aso Erupts, Warning Issued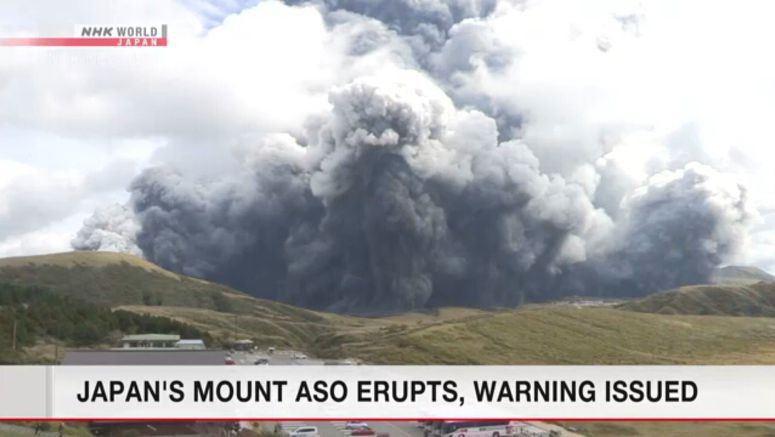 Mount Aso in the western Japanese prefecture of Kumamoto has erupted. Authorities have raised the alert level. They are asking everyone nearby to be vigilant. Mount Aso is one of the country's most active volcanos.
The Meteorological Agency says smoke began billowing from the Nakadake No. 1 crater at 11:43 a.m. on Wednesday. The smoke soon reached a height of 3.5 kilometers.
Officials say dense mixtures of ash, lava and volcanic gas called pyroclastic flows streamed about 1.3 kilometers west of the crater. Large volcanic rocks flew nearly a kilometer away to the south.
There was a second eruption about an hour later. It sent smoke soaring up about 1.6 kilometers into the sky.
Ozaki Tomoaki is an official at the Japan Meteorological Agency. He said, "Not only volcanic ash, but also small volcanic rocks could be blown quite far by the wind on the leeward side of the mountain. We are also cautioning about volcanic gas. Please follow instructions from local governments and do not enter dangerous areas."
The agency issued a warning to everyone within two kilometers of the crater. The level 3 alert covers three municipalities. People are being told to stay away from the volcano.
Local police have confirmed that 11 people who were climbing Mount Aso have come down and are safe.
Volcanic activity had been increasing recently.
There were volcanic tremors at the mountain one week ago. That suggests hot water and magma were moving underground.
A smaller eruption was detected on the following day.