Kishida, Biden Expected To Affirm Plans To Bolster Deterrence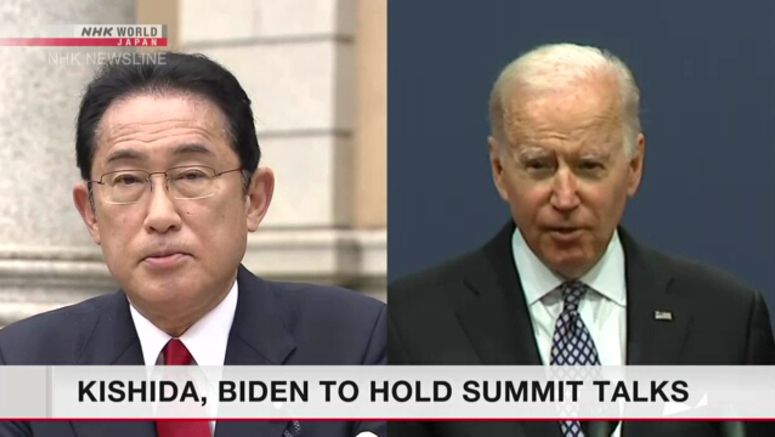 Japanese Prime Minister Kishida Fumio and US President Joe Biden will meet in Tokyo on Monday. They are expected to affirm close cooperation over the situation in Ukraine and plans to bolster deterrence and response capabilities.
Biden arrived in Japan on Sunday for his first visit to the country since taking office.
Kishida and Biden are expected to reaffirm their policy of working with G7 nations to maintain stiff sanctions on Russia and provide support to Ukraine in response to Moscow's invasion.
The two leaders are likely to share the view that rules-based international order has been challenged by actions, such as Russia's invasion and China's hegemonic behavior.
With the recognition in mind, Kishida and Biden are expected to agree to further solidify the Japan-US alliance.
Kishida intends to convey his idea of fundamentally boosting Japan's defense capability. His ruling Liberal Democratic Party proposes that the country should increase its defense budget and possess "counterattack capability" to deal with ballistic missile threats.
Kishida also hopes to confirm Washington's strengthening "extended deterrence" for Japan. That is a concept to deter attacks on allies with US defense capabilities including nuclear and conventional forces.
Kishida and Biden are expected to confirm that their countries will cooperate bilaterally, and trilaterally with South Korea, in dealing with North Korea.
The leaders will also likely confirm cooperation for stable procurement of energy amid the Ukrainian situation and for steady supplies of semiconductors, which are in short supply globally.
They will also likely discuss other issues, such as climate change and measures against the coronavirus pandemic.
Biden is expected to announce the launching of the Indo-Pacific Economic Framework, or IPEF. Kishida is making arrangements to express Japan's willingness to join.
The IPEF is an economic initiative apparently intended to balance China's moves in the region.