Kishida To Reshuffle Cabinet As Early As Next Week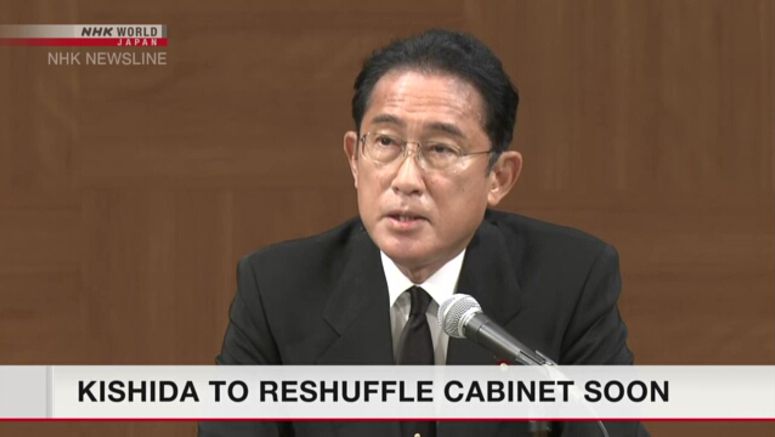 Japan's Prime Minister Kishida Fumio announced on Saturday that he will reshuffle his Cabinet and the top spots in his ruling Liberal Democratic Party as early as next week.
Kishida said that he has wanted to launch a new Cabinet as soon as possible to deal with various challenges, such as coronavirus infections, rising prices, Russia's invasion of Ukraine, and the Taiwan situation.
Party members have been dogged by questions about their connections to the religious group Family Federation for World Peace and Unification.
The man accused of murdering former Prime Minister Abe Shinzo said he had a grudge against it. That has thrown a spotlight on the ties between the group and Japan's political world.
Kishida also told reporters he will ask current and incoming Cabinet and state ministers to clarify their connections to the group.
He said he will instruct them to rectify those ties if necessary. Kishida said that as far as he knows he has no ties to the group.
The plan to hold a state funeral for Abe has faced criticism over the cost and potential politicization. Kishida brushed aside these concerns, saying it is appropriate to hold a public funeral with foreign dignitaries in attendance.
He noted that many countries had expressed their respect for Abe and offered condolences following his death. It would be only the second such funeral for a former Japanese leader in the postwar period. The first was Yoshida Shigeru, who died in 1967.