Kono Meets Ex - Residents Of Russian - Held Islands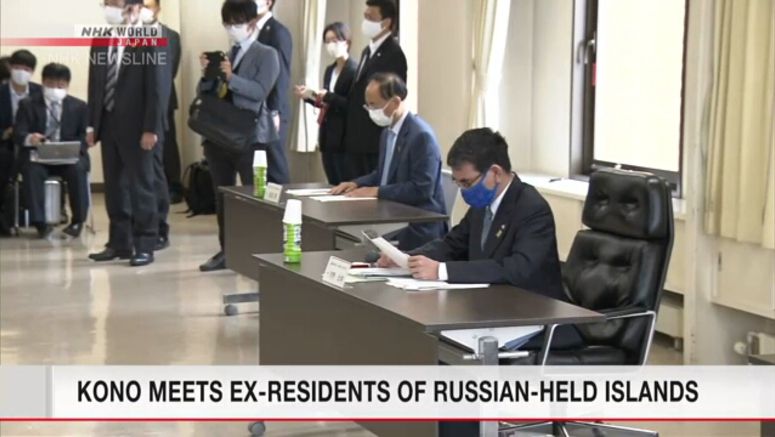 The Japanese Northern Territories Affairs Minister has met with former residents of the Russian-controlled islands. The Japanese government says the islands are an inherent part of its territory and were illegally occupied after World War Two.
In his first visit to Hokkaido after taking a new Cabinet post, former foreign minister Kono Taro had a discussion with the former residents at the Nakashibetsu town hall on Sunday.
Kono told them his grandfather, former fisheries minister Kono Ichiro, was involved in negotiations on the territorial issue and he himself negotiated with Russia on the issue as foreign minister. He said he is now addressing it from a different angle to help get it resolved, and he will listen to whatever former residents have to say about it.
Waki Kimio, who heads a federation of former residents of the islands, thanked Kono for setting up a discussion forum so soon after assuming a new post. He said he hopes Kono will also listen to the voices of the descendants of former residents. He asked that Kono facilitate free access to the islands for them so they can visit family graves, and also support awareness campaigns organized by younger generations.
Kono will also inspect the Northern Territories from Cape Nosappu in the city of Nemuro on Sunday.