Kyushu On High Alert For More Rain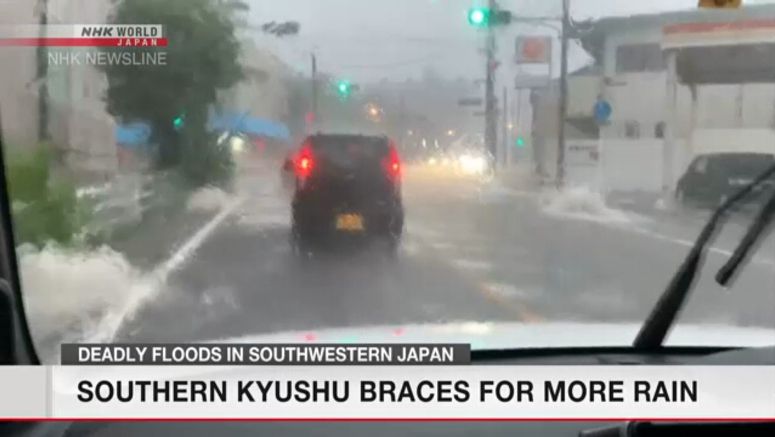 Weather officials are urging people in the Kyushu region, southwestern Japan, to be on high alert for floods and landslides, as heavy rain continues.
Localized downpours are drenching Kagoshima and Miyazaki prefectures, after record rainfalls wreaked havoc in neighboring Kumamoto Prefecture over the weekend. Kumamoto continued to see torrential rain on Monday morning.
Japan Meteorological Agency officials say the atmosphere has become unstable, due to a stationary front stretching from western to eastern Japan.
They say developed rain clouds are continuing to flow into Kyushu. They are warning of more rainfalls and landslides in some areas of Kumamoto, Kagoshima, Miyazaki and Saga prefectures, and elsewhere.
Radar analysis shows about 120 millimeters of rain fell in the one-hour period between 6:10 a.m. and 7:10 a.m. in or near Kushima City in Miyazaki Prefecture. The agency issued an alert warning people about record hourly rainfalls in the area.
Eighty-four millimeters of rain was recorded in Shibushi City, Kagoshima Prefecture, between 9 a.m. and 10 a.m.
In Kanoya City, in Kagoshima, 457 millimeters of rain fell between 10 a.m. on Sunday and 10 a.m. on Monday. Precipitation has exceeded the average rainfall for July in many places in the prefecture.
Weather officials say river water levels are rising to dangerous levels in Kumamoto, Kagoshima and Miyazaki. The Honjo River in Kushima has overflowed.
The agency is warning that the front will remain active through Tuesday and dump heavy rain around wide areas from western to northeastern Japan.
It says localized downpours will likely be seen in Kumamoto through Tuesday morning.
The maximum precipitation over 24 hours through Tuesday morning is expected to be 300 millimeters in Shikoku. It is expected to be 250 millimeters in northern Kyushu, as well as in the Kinki and Tokai regions.
Up to 200 millimeters of rain is forecast for the Kanto-Koshin region, while 180 millimeters is forecast for southern Kyushu, and the Chugoku and Hokuriku regions. One hundred millimeters is forecast for the Tohoku region.
The officials say the front will stay near the main island of Honshu through Wednesday and bring more rain.
They say downpours have already loosened the ground in wide areas in Kyushu. They are calling on people to be on the alert for landslides, overflowing rivers, and inundations in low-lying areas.