Lack Of Volunteers Slows Rebuilding In Kumamoto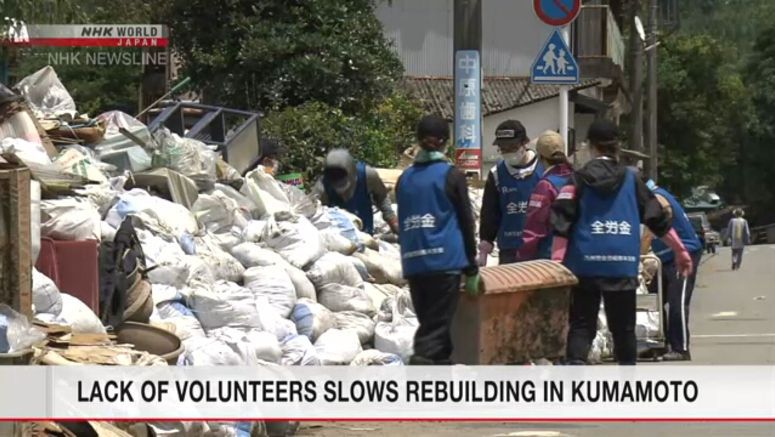 An NHK survey shows one-in-three respondents affected by last month's rain-triggered disasters in Kumamoto Prefecture, southwestern Japan, are experiencing negative effects of the coronavirus on their lives and rebuilding efforts.
NHK conducted the survey in late July, covering 104 people in Hitoyoshi City, Kuma Village, Yatsushiro City, and Ashikita Town. The four municipalities were hard hit by floods and mudslides caused by record downpours on July 4, almost one month ago.
Thirty-two percent of the respondents said the coronavirus had been adversely impacting their restoration work and lives as evacuees, at least to some extent.
Thirty-nine percent of them, cited a lack of volunteers and others who could help in disaster areas to remove mud and debris.
Officials in Kumamoto have not yet accepted volunteers from other parts of the country to prevent the spread of the coronavirus.
Almost 60 percent of the respondents oppose accepting volunteers from outside the prefecture.
The disasters have left 65 people dead and two others missing. More than 220 homes were destroyed, with 360 others heavily damaged. Close to 5,600 houses were inundated.
As of Thursday, about 1,470 people were taking refuge in shelters.
A survey carried out by prefectural officials shows over 1,000 people have decided to remain in their damaged homes due to concerns of contracting the coronavirus in shelters.
Civic aid workers are trying to learn more about the lives of such residents, who they fear tend to have difficulty receiving help and could become isolated.