Ldp Leadership Candidates Debate Policy Issues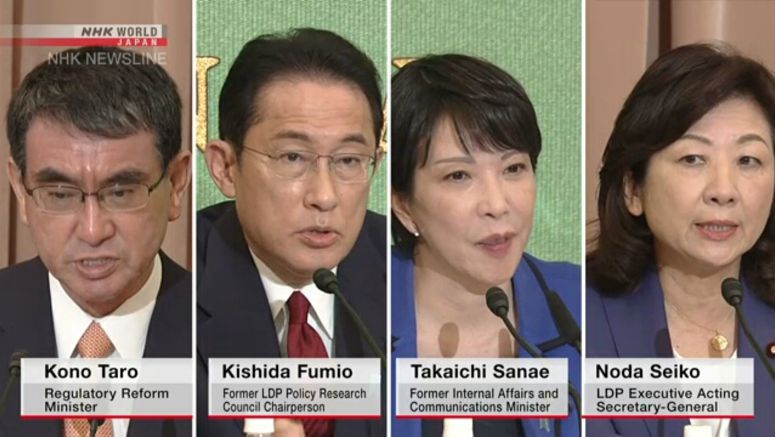 The contenders in the leadership race for Japan's main ruling Liberal Democratic Party laid out their policies in a debate on Saturday, one day after the official campaigning began.
The winner is virtually assured to become the next prime minister.
The four contenders are: Regulatory Reform Minister Kono Taro, former LDP Policy Research Council Chairperson Kishida Fumio, former Internal Affairs and Communications Minister Takaichi Sanae, and LDP Executive Acting Secretary-General Noda Seiko.
The debate covered various issues from measures against the coronavirus pandemic, the economy and energy policies.
Here's what they had to say on policies relating to China.
Kono said, "It is necessary that the international community stands up to China. The?Japan-China relationship is not only about security, but also economics, and human exchanges. That's why we must engage in tough diplomacy. It is important for the two leaders to hold summit meetings on a regular basis and communicate with each other."
Kishida said, "Countries that share universal values with Japan must make sure that China understands how it should act as a major power. Related countries should make efforts so that the Taiwan issue can be resolved peacefully. If any contingency occurs, I will deal with it in accordance with the provisions of the legislation for peace and security."
Takaichi said, " We need to be prepared, assuming there is a high possibility of a contingency involving Taiwan. Japan is limited in what it can do especially in the military field. In reality, one option is for the country to possess the effective deterrence and response capabilities, and to complement it with the Japan-US alliance."
Noda said, "The key is whether Japan will take a realistic approach amid the tensions between the US and China. Japan has pledged not to engage in war under its pacifist constitution. It's time for the country's top leader to carry out solid diplomacy."
The LDP will elect its new president on September 29. The government plans to hold a session of the Diet the following week to choose the next prime minister.