Man Jailed 10 Years For Sexually Abusing Daughter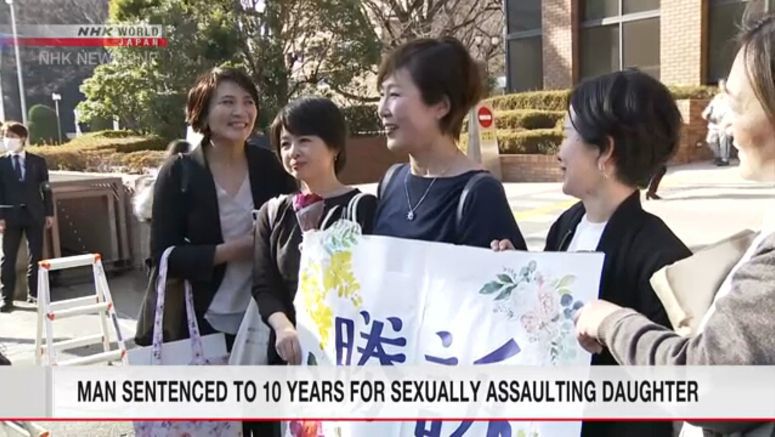 A high court in Japan has found a man guilty of sexually abusing his biological daughter, reversing a lower court acquittal that triggered a wave of protests.
The Nagoya High Court on Thursday sentenced the father to 10 years in prison as sought by prosecutors.
The ruling said the lower court had failed to fully recognize that the man's act was part of a long-continued sexual abuse by a parent.
The father was accused of sexually abusing his daughter in Aichi Prefecture three years ago when she was 19.
In a ruling in March last year, a branch of the Nagoya District Court acquitted him even though it acknowledged that he had sex with her without her consent.
The court rejected the argument that the father had taken advantage of her inability to resist.
Under Japan's penal code, a condition for a guilty verdict is that a victim of sexual violence could not resist and that the offender exploited the situation.
Prosecutors appealed the ruling by the lower court.
In the appeals trial, they argued that the daughter was psychologically and emotionally unable to resist because of repeated abuse over many years. They sought a guilty sentence.
Defense lawyers again insisted the man was not guilty.
Presiding Judge Mitsuru Horiuchi said the victim had repeatedly been forced to have sex against her will since her junior high school years, and also had felt financially indebted to the father.
The judge said it can clearly be recognized that she was unable to resist him.
Horiuchi denounced the father's act as a despicable crime that gave the victim extremely serious sufferings.
After the district court ruling, victims of sexual violence and their supporters protested nationwide, saying damage to victims is not understood.
They have been campaigning to make the penal code tougher on sex offenders.