Media View Ikee Swimming After Cancer Treatment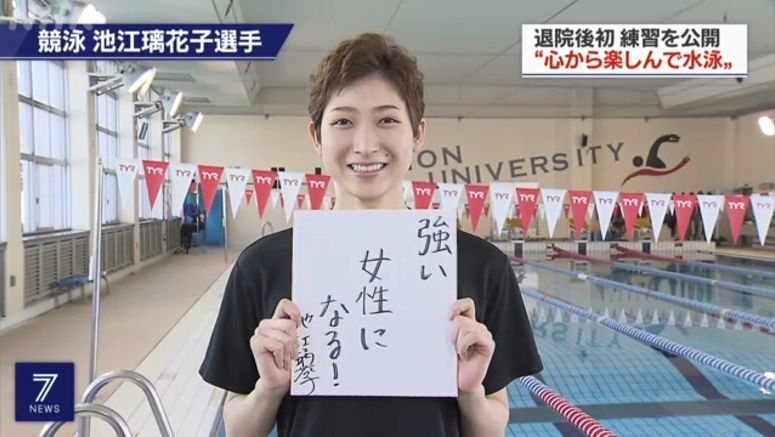 Japanese swimming star Ikee Rikako has invited media to view her training in a pool after her treatment for leukemia.
Ikee revealed her leukemia diagnosis in February last year. The 19-year-old left hospital last December and resumed training in mid-June after a pause due to the coronavirus outbreak.
The second-year student at Nihon University trained with her teammates in Tokyo on Thursday.
Ikee swam about 3,000 meters during the two-hour session, focusing on butterfly and freestyle. She holds the Japanese record for the women's 100-meter butterfly.
Ikee says she visits a hospital once a month for a checkup, and swims four times a week.
She says she is truly enjoying swimming. She says she really feels she is gaining strength day by day, and she is back to the level she achieved when she was in junior high school.
Ikee said she sometimes wonders if she can make a real comeback due to her illness, but she wants people to know that a person can become strong again even after falling ill.
Ikee says her immediate goal is to qualify for the Inter-College Swimming Championships 2020, scheduled for October in Tokyo.
She says she is also setting her sights on competing in the 2024 Olympics in Paris. The 2020 Tokyo Games have been postponed to 2021 due to COVID-19. She says some people hope to see her participate in the Tokyo Olympics, but she will aim for the 2024 Games, adding that now is the time for her to build a solid foundation.
Ikee competed in the women's 100-meter butterfly at the 2016 Rio de Janeiro Olympics, but didn't win a medal.
Ikee will turn 20 on Saturday. She says she thinks this will be the first step of her adulthood and she wants to be aware of that. She adds that she wants to become a woman with a strong will and a strong inner self.