Millions Online Protest Prosecutor Law Revision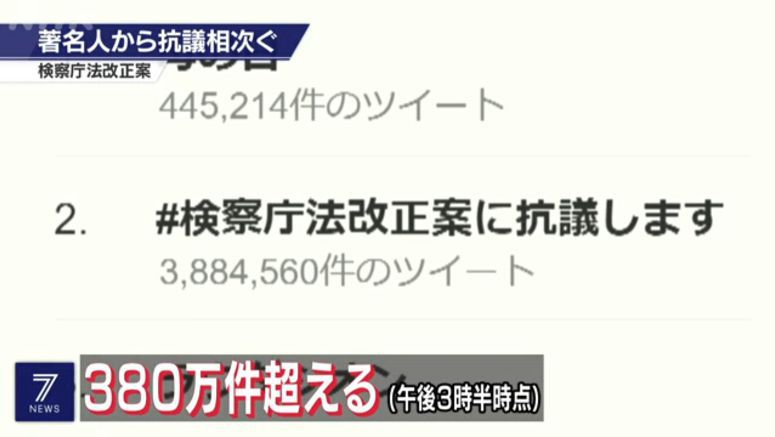 Artists and other celebrities in Japan were among millions of people who have been posting protests online against a government bill that could extend the retirement age of public prosecutors.
More than 3.8 million tweets were posted by Sunday afternoon with a hashtag that expresses opposition to the revision of the public prosecutor's office law.
The proposed legislation would raise the age from 63 to 65. Extensions of up to three more years would be possible, based on Cabinet approval.
The bill is now before a Lower House committee. It comes after the government decided in January to allow a senior prosecutor to remain in his position after turning 63 by changing its interpretation of the law.
The decision generated a wave of criticism. Critics say the step was taken arbitrarily to serve the government's interest.
Theater director Miyamoto Amon tweeted that amid the current confusion over the coronavirus, the government must stay focused on people's lives.
Miyamoto wrote that it is a tragedy for Japan that a bill that is clearly at odds with democracy is being pushed through the Diet.
Actor Iura Arata tweeted that laws and politics should not be distorted any further for the sake of self-protection and convenience. He pleaded that this country not be destroyed.
The leaders of four opposition parties posted video messages on Sunday night.
Edano Yukio of the Constitutional Democratic Party said constitutionalism would be destroyed if those in power are allowed to exert influence on appointments of senior prosecutors.
But the government and the ruling coalition parties are hoping to have the bill pass the Lower House as early as this week and enacted during the current Diet session.
They say an abuse of the bill would be prevented, because the Cabinet will present its reasons in advance for extending retirement age for certain prosecutors.