More Coronavirus Cases On Cruise Ship In Nagasaki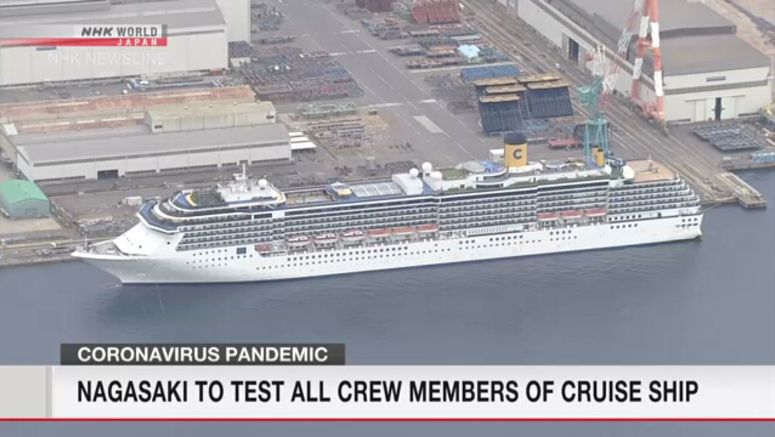 Officials in Nagasaki, western Japan, have confirmed 14 more coronavirus infections on a cruise ship docked at a port in the prefecture. Forty-eight people on the ship have now tested positive for the virus.
Officials reported the new cases on Thursday, as work continued to test all 623 crew members aboard the Italian-registered Costa Atlantica.
The cruise ship is at a Mitsubishi Heavy Industries shipyard. It was sent there for repairs. As of Wednesday, tests had been carried out on 61 crew members who had exhibited symptoms. Thirty-four of them tested positive.
Officials are prioritizing tests for the 130 people on board who are essential for the ship's navigation. They said the 14 new cases were confirmed early Thursday, after they took samples from 66 of those individuals.
Seven are staff members responsible for preparing food. The other seven are staff members who serve food. All have been isolated in separate cabins. Authorities are trying to confirm their conditions.
Officials said a crewmember in his 40s, who tested positive earlier and was taken to a hospital in Nagasaki City, is now in serious condition. The individual is on a ventilator.
Officials from Nagasaki City and the prefecture say they are working with doctors sent by the health ministry to test everyone on board. They say Ground Self-Defense Force personnel are also participating in the effort. The officials added that they plan to finish taking samples from the remaining crew members by the end of this week.