More Heavy Rain Expected In Eastern, Western Japan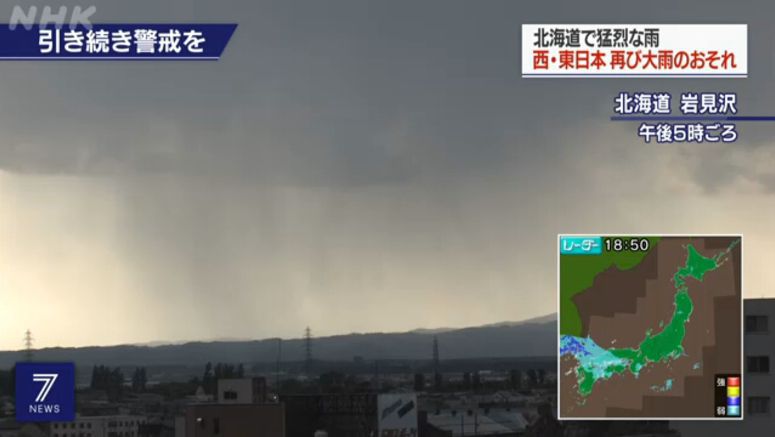 The Meteorological Agency says more heavy rain is expected in eastern and western Japan, and people should remain on the alert for landslides and floods.
The agency says radar analysis shows that about 100 millimeters of rain fell in one hour near the cities of Iwamizawa and Mikasa in Hokkaido on Sunday afternoon. A landslide warning has been issued for Iwamizawa.
Hourly rainfall of 50 millimeters was observed in Lake Tanzawa in Kanagawa Prefecture, near Tokyo.
Some rivers in Aomori and Iwate prefectures are at risk of overflowing.
A low-pressure system over mainland China will move to the Sea of Japan through Tuesday, bringing more rain and making atmospheric conditions unstable again in eastern and western Japan.
Northern Kyushu and Shikoku will have 200 to 300 millimeters of rainfall in the 48-hour period through Tuesday evening.
Between 150 and 250 millimeters are forecast for Chugoku, Kinki, Hokuriku, Tokai, Kanto and Koshin; and 100 to 200 millimeters in southern Kyushu.
Some parts of Kyushu have been hit by record rainfall.
In the affected areas, the ground has become loose and river dikes have been damaged. Even a small amount of rain could trigger disasters.
Weather officials are urging people to stay on the alert for landslides, overflowing rivers and flooding in low-lying areas.