More Torrential Rain To Hit Western, Eastern Japan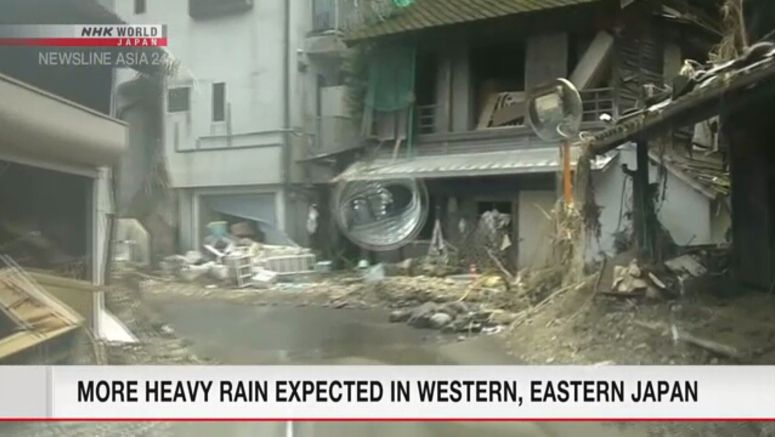 Much of Japan can expect even more damaging rain over the coming days. The Meteorological Agency is calling on people in both eastern and western Japan to be on alert for landslides and flooding.
The weather system is set to batter areas of Kyushu, already struggling with the aftermath of earlier downpours.
Amid the damage, teams search for survivors.
More than 70 people in the disaster area have died. And at least 13 more are missing.
But the mission has yielded some results, including this reunion between a woman and her missing husband and pet.
Local rafting guides are delivering relief supplies to some of the hardest-hit communities.
When rain swept through Kumamoto prefecture, people were temporarily stranded.
Some areas are still hard to access, because flood waters damaged roads and bridges.
A rafting guide, Maitoko Tetsuya, said, "I just want them to recover. And I want to see their smiles return."
Weather officials say rain will continue into Tuesday and could trigger further disaster.
Heavy rain has fallen over wide areas from western to northern Japan, putting more river systems at risk of overflowing.
Despite the forecasts for heavy rain in western Japan, some schools have reopened.
Elementary and junior high schools in the town of Ashikita in Kumamoto prefecture underwent safety inspections.
Now that they are reopened for the first time in a week, students are glad to be back in class.
A female student said, "When I was stuck at home, I was worried about landslides. I feel much better now that I have met my friends."
Schools are also reopening in the nearby city of Hitoyoshi.
Six elementary schools and three junior high schools had to close after a nearby river overflowed.
School grounds were flooded. And access to the schools was limited when roads were blocked and a bridge was washed away.
One elementary school says about 60 percent of its students experienced flooding at their homes.
Prime Minister Abe Shinzo has visited sites hit by the disaster, including a nursing home where fourteen people lost their lives.
He met with local leaders to discuss financial support and reconstruction plans.
Abe said, The government will do everything it can to reopen national roads and repair rivers as soon as possible. We will provide support, including setting up temporary housing and dispatching support staff.
Abe is also visiting an evacuation center today.