Moritomo Document Tampering Damages Trial Begins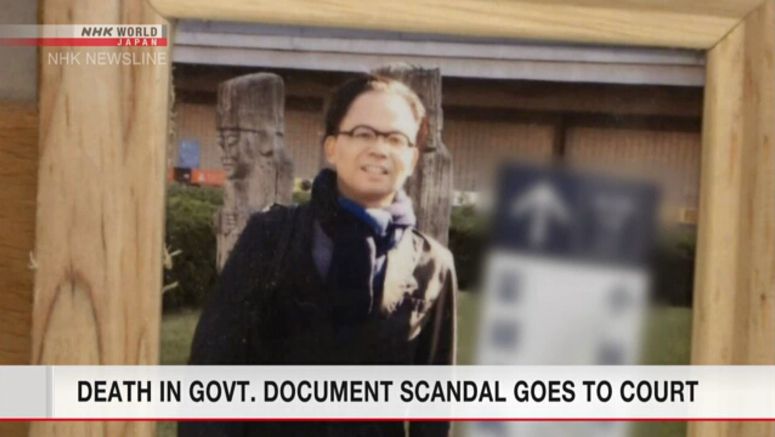 A trial has begun in Osaka involving the widow of a former Finance Ministry official who committed suicide after being forced to falsify documents. The widow is seeking damages from the state and a former senior ministry official.
Akagi Toshio, who worked for the Finance Ministry's regional bureau in Osaka, killed himself in 2018. He had been pressured to falsify official documents pertaining to the sale of state-owned land to school operator Moritomo Gakuen at well below market value.
The transaction drew criticism because Prime Minister Abe Shinzo's wife was named an honorary principal of an elementary school to be built at the site.
Akagi's widow Akagi Masako says her husband became depressed, and that led to his suicide.
She is seeking about one million dollars in damages from the central government and the former head of the ministry's Financial Bureau, Sagawa Nobuhisa.
At the Osaka District Court on Wednesday, Akagi Masako explained that she filed the lawsuit to clarify why her husband took his own life. She also wanted to help prevent government employees from having to face similar situations in the future.
She said she wants to do what her husband wanted, which is to bring the facts to light.
Akagi Masako recalled that on the day he died, her husband looked as if he were crying out of despair.
She tearfully demanded to know what had happened at his workplace and what he was forced to do.
She asked that the court examine Sagawa and other ministry officials who were involved in the document tampering as witnesses.
The government is asking the case be dismissed.
But it did admit that Akagi was reluctant to falsify the documents, repeatedly resisted orders from the Financial Bureau, and was forced to work overtime on successive nights.
The government says it will make its claim by the end of September on whether there was a connection between the document tampering and Akagi's suicide.
Sagawa's lawyers also asked that the case be dismissed, claiming a public servant is not liable for damages as an individual for actions while on duty.