Ngos, Hibakusha Urge Japan To Take Action For Nuclear Disarmament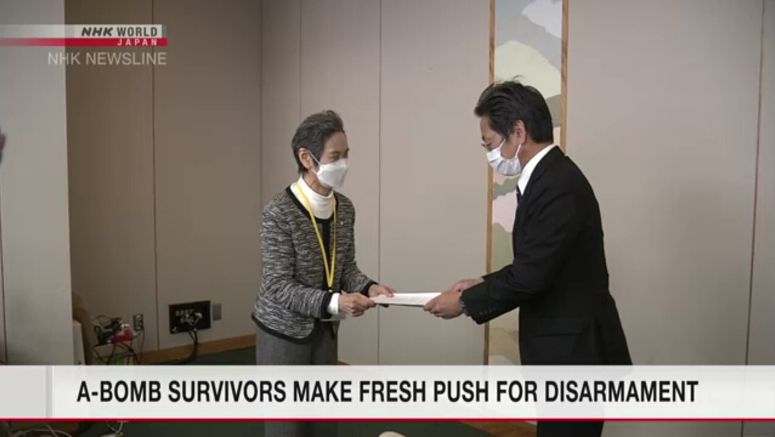 Atomic bomb survivors and anti-nuclear NGOs have urged senior officials at Japan's foreign ministry to take concrete measures toward abolishing nuclear weapons.
Members of the Japan NGO Network for Nuclear Weapons Abolition submitted a petition at the foreign ministry in Tokyo on Thursday.
Kawasaki Akira, a leader of the group of NGOs, told officials that action is urgently needed to abolish nuclear weapons amid the tensions over Ukraine and North Korea's missile launches.
In the petition, the group asks the government to acknowledge the significance of the UN nuclear weapons ban treaty in the draft resolution calling for nuclear disarmament that Japan submits to the UN General Assembly every year.
It also wants the government to show leadership at two upcoming meetings in Hiroshima to be attended by world leaders. The "International Group of Eminent Persons" will meet for the first time on November 23 and the G7 summit will be held in May next year.
The NGO network has asked the government to allow atomic bomb survivors and world leaders to exchange opinions on the sidelines of these meetings.
Group members said foreign ministry officials explained the government's policies on nuclear disarmament in a closed-door meeting.
Atomic bomb survivor Wada Masako said the officials lack a sense of urgency about the situation surrounding nuclear weapons.
She also said it was disappointing that the officials only repeated what they have always been saying. She said the group has no choice but to continue with its demands.