Nhk Poll: Cabinet Approval At 43%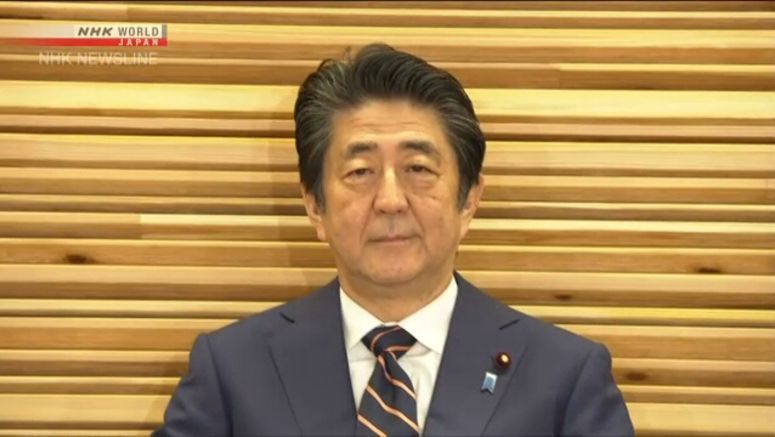 NHK's latest opinion poll puts the approval rating for Prime Minister Shinzo Abe's Cabinet at 43 percent. The figure is down by two points from last month.
The disapproval rating rose four points to 41 percent.
NHK asked more than 2,000 randomly chosen people aged 18 or older between Friday and Sunday. Of those, 1,240, or 56 percent, responded.
Among those who support the Abe Cabinet, 54 percent said it seems to be better than other cabinets. Eighteen percent said it has the ability to carry out its policies.
Among those who disapprove, 39 percent said they don't trust Abe, and 30 percent said they have low expectations regarding his Cabinet's policies.
The respondents were asked about the new coronavirus. Twenty-four percent said they feel very anxious about contracting it, and 50 percent said they feel anxious to some extent. Twenty percent said they don't feel so anxious, and 4 percent said they don't feel anxious at all.
Four percent said they highly rate the Japanese government's effort to contain the outbreak, while 43 percent said they do to some extent. Thirty-four percent said they don't rate it so much, while 13 percent said they don't at all.
The respondents were also asked about the closure of most elementary, junior and senior high schools in Japan, as requested by the prime minister to help contain the outbreak. Sixty-nine percent said there was no other choice, while 24 percent said it was excessive.
The government stepped up the nation's border control measures on Monday in an effort to prevent the spread of the virus. People arriving from China and South Korea are being asked to stay quarantined in designated locations for two weeks.
Thirty-six percent of respondents agreed with the move, while 41 percent gave it some credit. Thirteen percent said they do not give it much credit, while 5 percent said they don't agree with it at all.
Sixty percent said they are very concerned about the impact the virus may have on Japan's economy. Thirty percent they are concerned to some extent. Five percent said they aren't very concerned, and 1 percent said they are not concerned.
The 2020 Tokyo Olympics and Paralympics are scheduled to be held between July and September. Asked if they believe the Games will be held as scheduled, 40 percent of respondents said "yes," and 45 percent said "no."