Nhk Poll: Cabinet Approval Rate Falls To 39%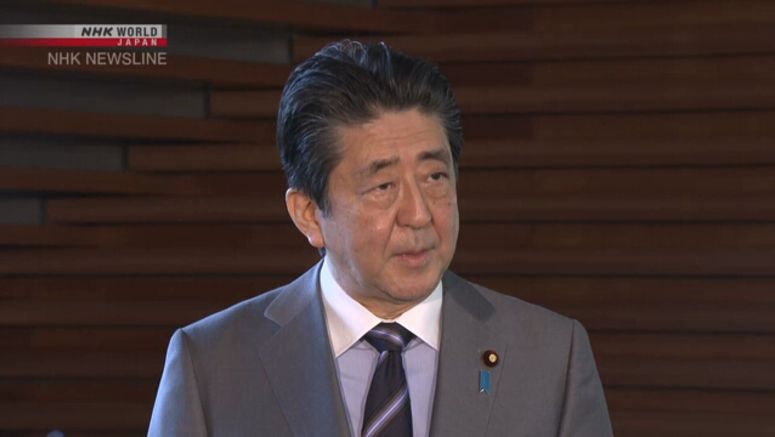 NHK's latest poll shows that public support for Prime Minister Abe Shinzo's Cabinet is almost equally divided.
NHK conducted a telephone survey between Friday and Sunday of over 2,000 randomly chosen people aged 18 or older. More than 1,200 people responded.
The Cabinet approval rate stood at 39 percent, down four points from last month's survey. But the disapproval rate also declined three points, to 38 percent.
Among those who support the Cabinet, 53 percent said it seems better than other cabinets, while 16 percent said it represents political parties they support.
Of those who disapprove, 35 percent said they don't trust Abe, and 28 percent said they don't expect much from his Cabinet's policies.
Asked about the coronavirus pandemic, a total of 89 percent said they are worried that they or their family could be infected. That's up 15 points from the previous survey.
Forty-six percent took an overall positive view of government responses to the pandemic, while 50 percent viewed them negatively.
Japan's government declared a month-long state of emergency last Tuesday for Tokyo and six other prefectures.
Seventeen percent of respondents said the declaration had come at the right time, while 75 percent thought it was too late.
The government also announced an emergency economic package worth about 1 trillion dollars, to help alleviate the impact of the outbreak.
Forty-nine percent said they support the package, while 44 percent said they don't.
Under the package, households whose income falls below a certain level are set to receive a cash handout of about 2,800 dollars each.
Forty-three percent of respondents said they approve of the measure, but 50 percent said they don't.