Nine Prefectures Running Out Of Hospital Beds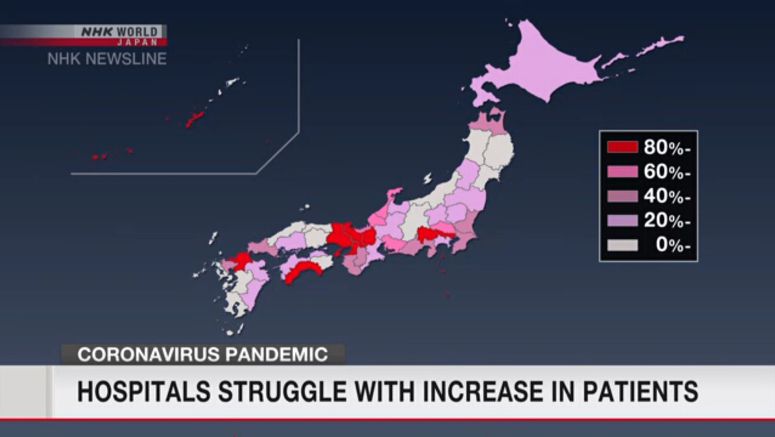 NHK has learned that nine of Japan's 47 prefectures have almost run out of hospital beds to treat coronavirus patients.
NHK asked prefectural governments and other entities about the number of beds they have secured and how many are occupied.
There are now some 9,600 hospital beds nationwide equipped to accommodate coronavirus patients. The total number of in-patients is at least 5,000.
Nine prefectures reported that more than 80 percent of their beds are occupied. They include Tokyo, Osaka, Hyogo and Fukuoka where the central government has declared a state of emergency. The other five, which include Kyoto and Okinawa, are not under a state of emergency.
Prefectural government officials are worried about the shortage of surgical masks and other personal protective equipment, and the lack of medical staff to oversee the transfer of patients with mild symptoms to accommodation facilities.
They're also concerned about large hospitals getting too many patients, and the risk of in-house infection.
Kutsuna Satoshi, a doctor at the National Center for Global Health and Medicine, is calling for urgent preparations to care for patients in serious condition.
Kutsuna says hospitals that have not accepted coronavirus patients will have to cooperate and receive them so as to keep the regional health system running. He is urging areas that have not had so many patients to secure more hospital beds while they still can.