Nishimura Talks With Governors Around Tokyo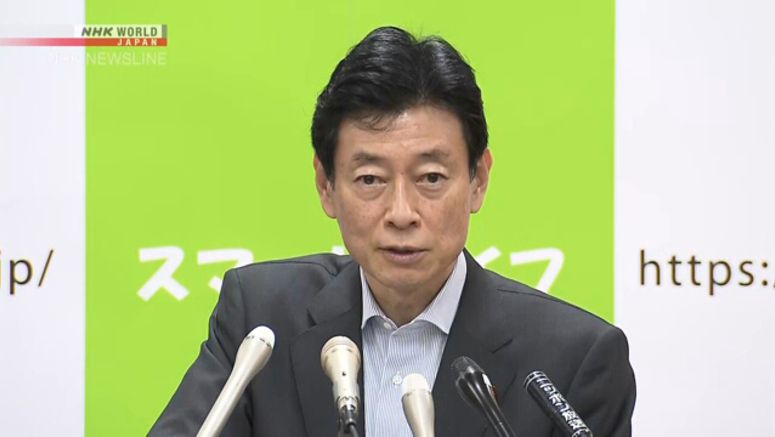 Economic Revitalization Minister Nishimura Yasutoshi, who is in charge of the national coronavirus response, has spoken online with governors of three prefectures neighboring Tokyo, where over 100 new cases have been confirmed on a daily basis.
In Sunday's web meeting, Nishimura said the government does not think a state of emergency should be declared again, but that it is working to analyze whether there are unknown clusters and whether infection is spreading in communities.
He said enhanced measures are needed to prevent infection at nighttime entertainment spots, such as host or hostess bars.
Nishimura said more people should be tested, and public health centers need to play a greater role.
Ono Motohiro, the governor of Saitama Prefecture said he is deeply concerned, as many of those who were confirmed to be infected in his prefecture work at or patronize nighttime entertainment spots in Tokyo or are their family members.
He said his prefecture will do whatever it can to prevent further spread of the virus.
The governor of Chiba Prefecture, Morita Kensaku, said he is concerned because the number of new cases in the prefecture is in double digits.
He said he is calling on people to take caution and use good judgment when going to places that are said to be of high risk, such as nighttime entertainment spots.
Kanagawa Governor Kuroiwa Yuji said he is nervous because people go back and forth between Kanagawa and Tokyo every day.
He said the situation is not serious enough to call on people to stay home or ask businesses to close as he did when the state of emergency was declared, and that he wants everyone to take utmost caution instead.