Northern Japan Hit By Record Rainfall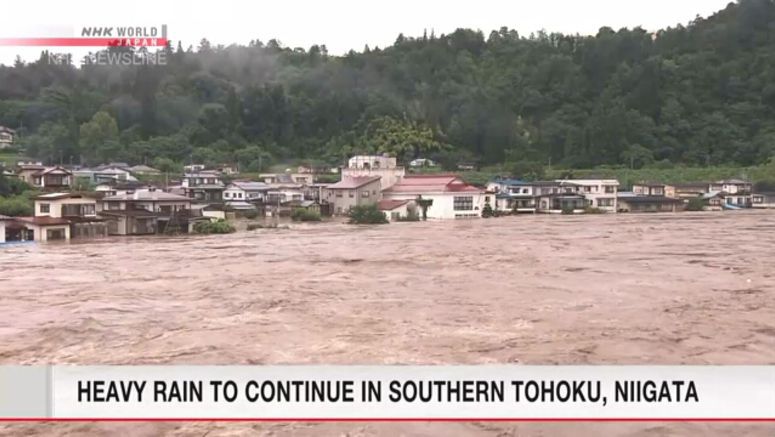 The Meteorological Agency has called for caution against mudslides and flooding due to a record rainfall in Yamagata Prefecture, northern Japan.
Weather officials forecast more heavy rain in the Tohoku region and Niigata Prefecture in northern Japan on Tuesday night.
The officials say that 36 millimeters of rain fell in Uonuma City, Niigata Prefecture, in the one-hour period up to 7 p.m., Tuesday.
In some parts of Yamagata Prefecture, more than 200 millimeters of torrential rain was recorded in the last 24 hours. In Nagai City, 206.5 millimeters of rain was recorded -- the most since 1976. Some parts of the Mogami River are at risk of overflowing.
A mudslide warning has been issued for the prefectures of Yamagata, Nagano, and Gifu.
In Tohoku and Niigata, more than 30 millimeters of rain per hour is forecast on Tuesday night, and as much as 100 millimeters until late Wednesday afternoon.
In the 24-hour period through late Wednesday afternoon, up to 120 millimeters of rain is forecast in northern parts of Kyushu, southwestern Japan, and 80 millimeters in central and eastern Japan.