Nurse In Kanagawa Pref. Has Coronavirus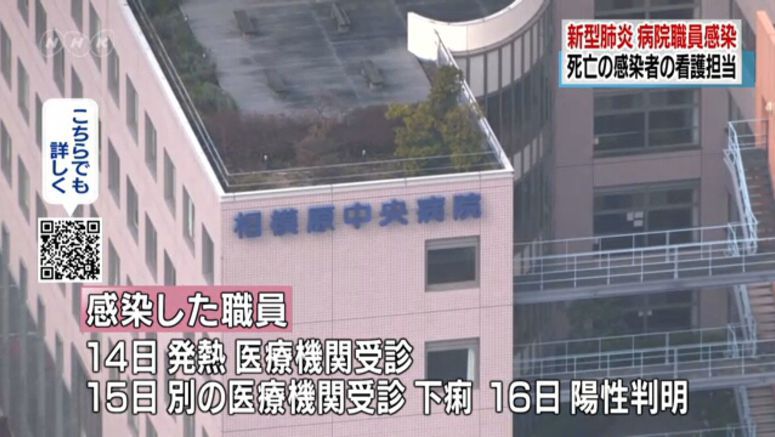 Authorities in Kanagawa Prefecture, near Tokyo, say a nurse at a hospital in Sagamihara City has the new coronavirus.
They say Sagamihara Chuo Hospital is where a woman in her 80s, who was confirmed to have the virus after her death last week, was being treated earlier this month.
In a news conference on Monday, prefectural and city officials said the female nurse in her 40s took care of the patient.
They say the elderly patient, a resident of the prefecture, was in the hospital from February 1 to 6. She died later at a different hospital. She was reportedly treated at a total of three hospitals.
The officials said a total of 61 people came into close contact with the patient.
They said the results of virus tests on 43 of them were available as of Monday morning, and that the nurse was the only one who tested positive.
She reportedly developed a fever and sought treatment on Friday. She visited another medical institution on Saturday, and had diarrhea that night.
The officials said the nurse had not worked since Saturday. They said she no longer has a fever, but will be hospitalized later on Monday.
Sagamihara Chuo Hospital says it has stopped treating outpatients. It says visits to inpatients will be suspended.