Omicron Isolation To Be Reduced For Close Contacts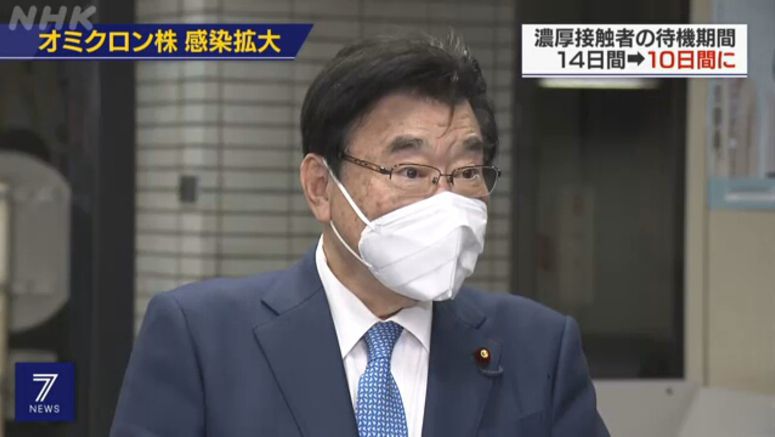 Japan's health minister says the isolation period for people who have had close contact with those infected with the Omicron variant will be cut to 10 days from the current 14 days.
Goto Shigeyuki announced the plan when he spoke to reporters on Friday after discussing the matter with Prime Minister Kishida Fumio. Goto cited the need to ensure that society can function.
Currently, people designated as close contacts are required to self-isolate for 14 days at accommodation facilities or their homes.
Goto also said local governments will be able to make their own decisions on whether to end the isolation period for medical workers and essential workers including police officers and fire fighters.
He also referred to planned conditions for lifting self-isolation for such workers. The protocol will require workers to test negative in PCR or quantitative antigen tests on the sixth day from the last day of their close contact with infected people, or they should test negative in qualitative antigen tests consecutively on the sixth and seventh days.
The minister also said authorities in municipalities that see progress in Omicron replacing the Delta variant will be permitted to deal with all infected people as those infected with Omicron. In such a case, municipalities will be allowed to forego genome analysis that applies to those infected with variants other than Delta.
The government's decision came one day after a health ministry panel of experts proposed a shorter isolation period on Thursday. The experts said the incubation period of Omicron is shorter than that of previous variants.