Osaka Voters Reject 'metropolis Plan'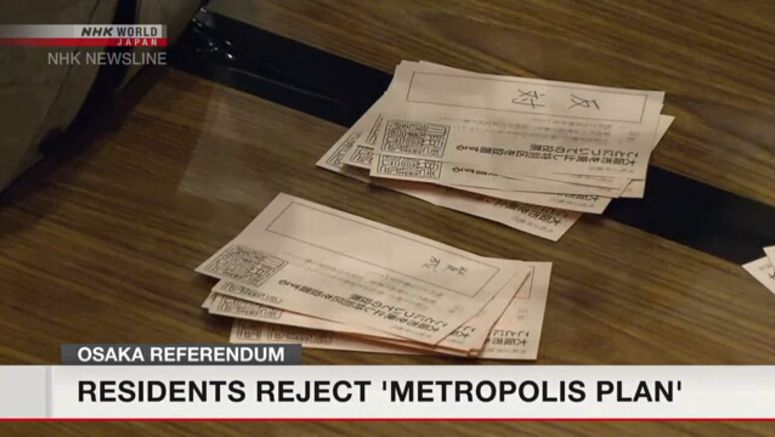 Voters in the western Japanese city of Osaka have voted to reject a plan to reorganize the city into four special wards similar to those in Tokyo. This means the current system will remain in place.
What's known as the "Osaka metropolis plan" called for abolishing the ordinance-designated city and creating four special wards, effective January 1, 2025.
More than 2.2 million voters in the city were eligible to take part in the second such referendum on Sunday, for which official campaigning started on October 12.
Proponents, including regional political party Osaka Ishin no Kai and Komeito, said duplication of work between the prefectural and city governments should be eliminated, while promoting the growth of the entire Osaka region.
However, opponents, including the Liberal Democratic Party and the Japanese Communist Party, argued that the measure would worsen services for residents.
Support for the plan had not spread widely, other than supporters of Osaka Ishin no Kai, as a majority of voters have again opposed the plan.
Osaka Mayor Matsui Ichiro, who heads Osaka Ishin no Kai, told reporters on Sunday night that he will retire from politics after completing his term as mayor in April 2023.
Matsui said he took on a big challenge for a second time, and could only say that he is to blame for the loss.
He added that he has led Ishin no Kai for 10 years, but he now feels the need to take clear responsibility by stepping down.
Osaka Governor Yoshimura Hirofumi, who serves as deputy leader of Osaka Ishin no Kai, told reporters that he takes the rejection of the referendum seriously.
He said he will never again propose a metropolis plan and wants to complete the remaining two-and-a-half-years of his current term.