Party Leaders Speak As Campaigning Kicks Off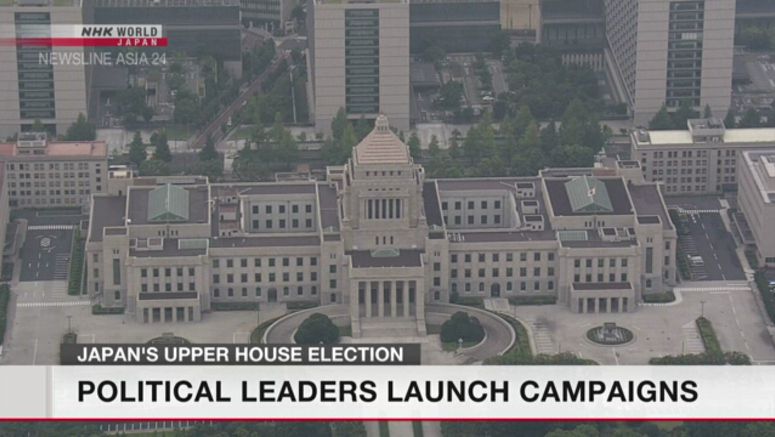 Campaigning has officially started for Japan's Upper House election. Voters head to the polls in about two-and-a-half weeks. Party leaders are already making their pitches to the public.
Liberal Democratic Party President and Prime Minister Kishida Fumio said, "In the wake of Russia's aggression in Ukraine, we will confirm whether we are fully prepared to protect our country, and the lives and livelihoods of our people. We will do this carefully by reviewing the national security strategy, Japan's basic defense plan. Prices are surging on a global scale due to the Russian aggression. In other words, this emergency is why costs are soaring. We will resolutely carry out specialized measures to support the energy sector, as well as the food sector. I would like you to make a firm decision on who should be given the task of achieving political stability, to overcome these challenges, and open up the future."
Constitutional Democratic Party President Izumi Kenta said, "The Constitutional Democratic Party has continuously been saying that we will fight recent high prices, calling it the 'Kishida inflation'. All of you cherish your livelihoods, household budgets and savings. Politicians can't ignore that. The key issue in this election has shifted to rising prices. That means, if opposition parties including ours raise our voices, we can make a difference. A crowd of ruling party lawmakers who can't say anything to the prime minister is meaningless. What you need now are intense sessions in the Diet. There are still many things that need to be changed."
Komeito Chief Representative Yamaguchi Natsuo said, "What is required of politics right now is to relieve the people of anxieties. We must instead deliver peace of mind. Komeito will rebuild the economy, build a social security system that protects all generations from children to the elderly, and strengthen Japan's national security. We will take on these three challenges. Komeito will move Japan forward. Please give us your mandate."
Nippon Ishin Japan Innovation Party Head Matsui Ichiro said, "Government officials and politicians have a very narrow vision. Prime Minister Kishida plans to create a system that would grant you redeemable points if you save energy. That is to avoid a power shortage this summer. But if you go without air-conditioning, you may suffer heatstroke. We have proposed allowing safe nuclear power plants to be operated for a limited period of time. But there has been no response. It is the role of us politicians to face the reality and protect your livelihood."
Democratic Party for the People President Tamaki Yuichiro said, "Japan is the only country where the real wage index has been falling for the past 25 years. Our vision for society is extremely simple. If you put in the effort to get a job and work hard, your wages should be raised. We want you to lead day-to-day life with a sense of security. The current politics is not doing its part to achieve that, so we want to change this country with a new approach."
Japanese Communist Party Chairperson Shii Kazuo said, "We will cut the consumption tax to 5 percent and cancel the new invoice system. We will impose a temporary tax on the reserves held by large companies, which have ballooned under Abenomics. An annual tax of 2 percent will amount to 10 trillion yen over 5 years. We would use that money to support small and medium-sized businesses to raise the minimum wage to 1,500 yen."
Reiwa Shinsengumi Leader Yamamoto Taro said, "To protect our country means to protect your livelihoods. By raising individual purchasing power, money will circulate in society. What is the top priority issue? Please support us so we can abolish the consumption tax. Now is the time to retrieve the hopes and dreams of people living in this country. "
Social Democratic Party Leader Fukushima Mizuho said, "Peace, no matter what. People's lives first. Never allow war. What Japan should do is achieve peace based on Article 9 of the Constitution."
NHK Party Leader Tachibana Takashi said, "People living on welfare, as well as students, do not have to pay NHK receiving fees. We want to make it free for pensioners too, or at least cut the fees in half."
Members of the Upper House are elected for 6-year terms. Elections are held every three years, with half of the seats up for grabs. This time, there are 124 seats plus one extra to fill a vacancy from the other half.
Seventy-five will be decided based on electoral districts. The remaining 50 seats will be filled by people elected through proportional representation from across Japan.
The following are the political parties and groups fielding candidates for electoral districts so far:
Liberal Democratic Party
Constitutional Democratic Party
Komeito
Nippon Ishin Japan Innovation Party
Democratic Party for the People
Japanese Communist Party
Reiwa Shinsengumi
Social Democratic Party
NHK Party
First no Kai
Ishin Party Shimpu
Happiness Realization Party
Sanseito
Kunimori Conservative Party
Japan First Party
There are other groups fielding candidates. Independents are also running.
And the parties and groups with candidates vying to be elected through proportional representation are listed below. They are in the order they registered.
Happiness Realization Party
Nippon Ishin Japan Innovation Party
Reiwa Shinsengumi
Komeito
Gobou-no-tou
Constitutional Democratic Party
Democratic Party for the People
Sanseito
Japan First Party
Japanese Communist Party
Kunimori Conservative Party
Liberal Democratic Party
Social Democratic Party
NHK Party
Ishin Party Shimpu
The ruling coalition aims to maintain its majority in the Upper House. That would require taking at least 56 of the 125 open seats. Campaigning continues through July 9. Voting day is July 10.