Passengers Start To Disembark Diamond Princess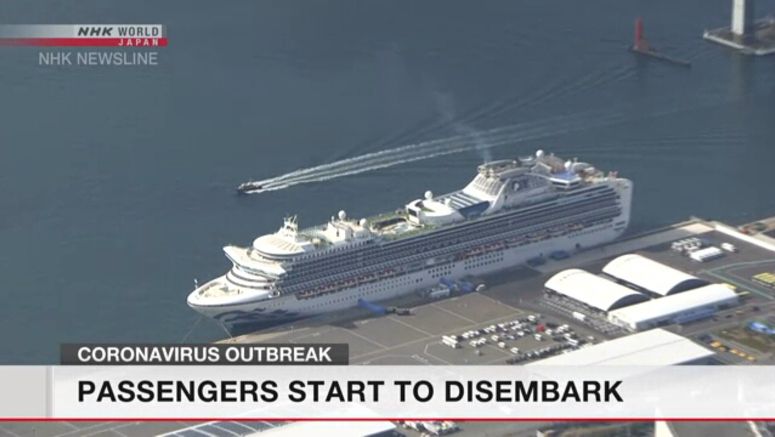 Passengers aboard a cruise ship south of Tokyo are finally starting to go home, after spending two weeks in quarantine. NHK World's Haruka Nouchi filed this report from Yokohama Port.
NOUCHI: It's been a busy morning at Yokohama port.
The media has been moved farther back from the ship, so it's hard to see exactly what's happening.
We are told that passengers have started disembarking.
I've seen more than 10 buses arrive and some have already left. And a lot of people are out on their balconies watching from above.
About 500 people are expected to be taken off the ship today.
Officials say passengers who test negative for the virus and meet a few other conditions are expected to disembark by Friday.
When the ship arrived earlier this month, it was carrying about 3,700 people. Since then, over 500 infections have been confirmed on board.
More and more governments say they will evacuate their citizens after they leave the ship. The US was the first to do so on Monday, followed by South Korea.
Some foreign experts have been criticizing the Japanese government's handling of the situation. The health minister maintains it was necessary to keep everyone on board. But one expert who assessed the ship told NHK that some of the quarantine measures fell short. He said crew members weren't doing enough to protect themselves.
Ministry officials say residents of Japan who leave the ship will be able to return home. But they will be contacted by phone for several days to check on their health.