Pm Suga Delivers His First Policy Speech In Diet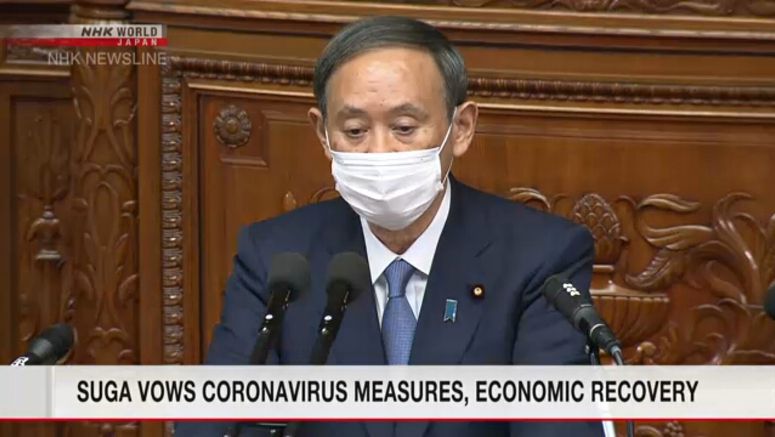 Japan's Prime Minister Suga Yoshihide has delivered his first policy speech in the Diet since taking office last month. Topping the agenda was the coronavirus pandemic.
Suga said, "The nationwide spread of infection has been declining since late June. But at the moment, this trend is slowing and the situation remains unpredictable. We will do everything to prevent an explosive increase in infections and protect people's health and lives. We will also resume social and economic activities and revitalize the economy."
Suga also said the government plans to bolster inspection capabilities so that global economic activities can safely resume. He says the aim is for 20,000 people, notably from the business and educational sectors, to be able to enter the country every day by the end of next month.
Suga also says his administration is trying to secure enough vaccine to supply all citizens by the first half of next year.
The ruling coalition is hoping to pass legislation to secure coronavirus vaccines by the end of the Diet session, which runs until December 5.
On the subject of climate change, Suga said that Japan will aim to achieve a carbon neutral society by 2050.
Suga also reiterated his determination to host next year's Tokyo Olympics and Paralympics in a safe and secure manner.
The prime minister will then face question and answer sessions in both the Lower and Upper Houses from Wednesday through Friday.
In addition to the coronavirus, the opposition will also likely focus on the controversy around Suga's refusal to appoint six scholars to the Science Council, the country's top academic body.