Police Arrest Former Japan Life Chairman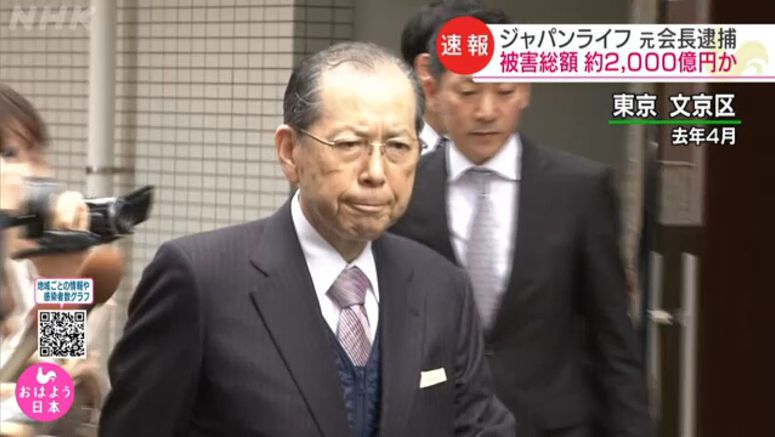 Tokyo police have arrested the former chairman of a failed health equipment dealer on suspicion of fraudulent business practices. The company allegedly solicited clients by showing them an invitation to a state-funded party that bore the name of then Prime Minister Abe Shinzo.
Police suspect Yamaguchi Takayoshi, the 78-year-old former chairman of Japan Life, and 13 others associated with the company of fraud and other infractions.
The company encouraged elderly people and others to invest in high-priced magnetic therapy devices. It claimed they would earn a high annual dividend for leasing out the units.
But it has been learned that Japan Life failed to inform its clients of its huge debts when the deals were signed. As a result there was little prospect of the firm paying dividends.
Some 7,000 people entered into contracts with the company. The investor losses are estimated at around 200 billion yen, or roughly 1.9 billion dollars.
The Consumer Affairs Agency issued a partial business suspension order to the firm on four occasions. Police searched about 30 locations in connection with the case last year.
The victims' lawyers say Japan Life solicited clients by displaying materials printed with an invitation for Yamaguchi to attend an annual government-funded cherry blossom-viewing party in 2015.
The lawyers say the government bears a grave responsibility as the invitation was used to gain clients' trust.
Opposition lawmakers raised allegations in the Diet that then Prime Minister Abe invited Yamaguchi to the party. But Abe denied he had had any personal relationship with Yamaguchi.