Political Veterans For Key Posts In New Cabinet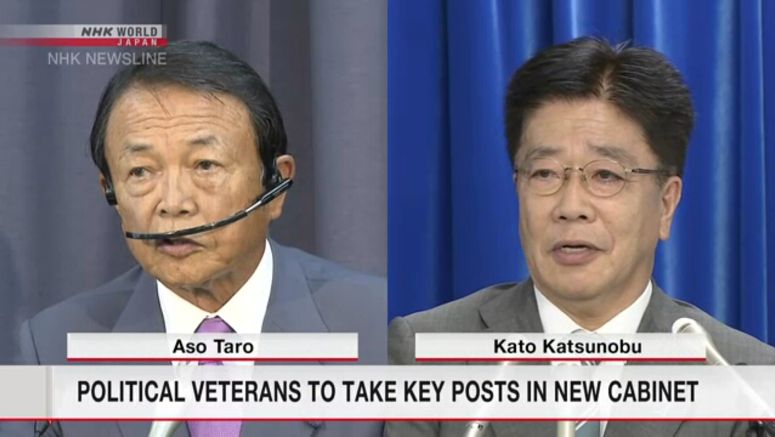 NHK has obtained details about who will serve in Japan's new cabinet. The list includes veteran politicians who have served as ministers, apparently reflecting Suga's intention to continue Abe's policies by keeping familiar faces on board.
Aso Taro will remain as Deputy Prime Minister and Finance Minister. He has been in the position since 2012.
Suga picked Health Minister Kato Katsunobu, one of his close aides, as Chief Cabinet Secretary to replace himself.
Foreign Minister Motegi Toshimitsu will stay in that role.
Former State Minister for Foreign Affairs Kishi Nobuo will be Defense Minister. Kishi is Abe's younger brother.
Defense Minister Kono Taro will serve as Administrative Reform Minister. Suga has pledged to promote cooperation among ministries and agencies and create a more efficient government.
Hirai Takuya will deal with digitalization of the government... another priority advocated by Suga.
Nishimura Yasutoshi will continue to work for the revitalization of the economy hit hard by the coronavirus.
Hashimoto Seiko will also retain her post as minister in charge of the 2020 Tokyo Olympics and Paralympics, which have been postponed to next year.