Possible Impact Of A State Of Emergency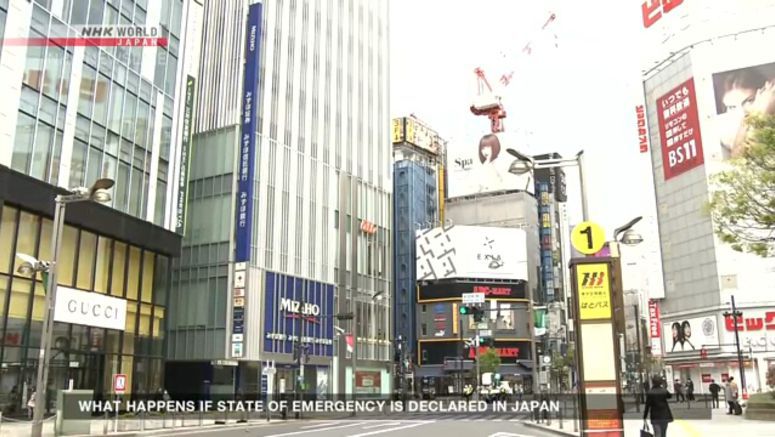 The declaration of a state of emergency will put certain restrictions on people's lives.
The declaration will give prefectural governors the authority to ask residents in designated areas to refrain from non-essential outings for a certain period of time.
Exemptions will include hospital visits, grocery shopping and commuting. Such requests are not mandatory, but citizens are expected to make an effort to cooperate.
The governors will also be given the authority to ask schools to close and put limits on using large facilities.
Facilities subject to the measure include nursery schools, daycare centers for the elderly and other welfare facilities.
Also included are large-scale commercial facilities, such as theaters, event venues, department stores, supermarkets, hotels and inns, gyms and pools, museums, libraries, night clubs, driving schools and cram schools.
Supermarkets can continue operating sections for necessities such as food, medicine and hygiene goods.
For facilities that do not comply with the request, prefectural governors will be able to give an instruction for closure, and publish the name of the operator.
Essential utilities will not be stopped in the event of the declaration of a state of emergency.
The providers of electricity, gas and water services will be asked to implement measures to ensure stable supplies.
The operators of transport, telephone, internet services and the post office will also be asked to operate properly.
Under the state of emergency, some measures will become mandatory.
The governors will be given authority to use land and buildings without consent from their owners to build temporary medical facilities.
The governors can expropriate medical supplies if necessary.
If medical suppliers do not comply with instructions to store such products, they could be given a jail sentence up to six months or fined up to 300,000 yen, or around 2,800 dollars.