Prince Akishino Proclaimed First In Line To Throne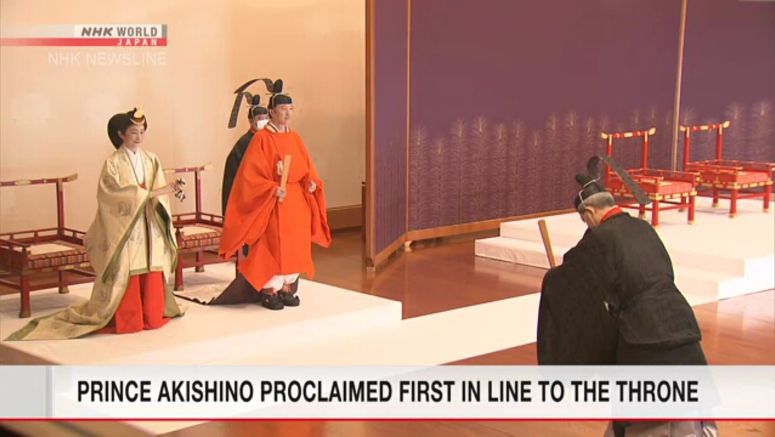 Japan's Crown Prince Akishino has been proclaimed to the public as heir to the Imperial throne. It was the last in a series of ceremonies associated with the succession of the throne.
The Prince, whose given name is Fumihito, became first in the line of succession in May last year. That was when his older brother, Emperor Naruhito, ascended the throne after their father's abdication.
The ceremony to proclaim him Crown Prince was originally scheduled for April of this year. But it was postponed because of the coronavirus pandemic.
Sunday's ceremony was attended by adult members of the Imperial Family and the heads of the three branches of government.
Emperor Naruhito said, " I hereby hold the Ceremony for Proclamation of the Crown Prince and as provided by the Imperial House Law, broadly proclaim to the people in Japan and the world that Prince Fumihito is the Crown Prince."
The Crown Prince then expressed his resolve to fulfill his duties.
Crown Prince Akishino said, "I am truly humbled to be granted the occasion of the Ceremony for Proclamation of the Crown Prince. I extend my deep thoughts to the responsibility as Crown Prince as I continue to fulfill my duties."
Prime Minister Suga Yoshihide delivered a congratulatory speech on behalf of the attendees.
Suga said, " Together with Her Imperial Highness the Crown Princess, His Imperial Highness the Crown Prince has long assisted Their Majesties the Emperor and Empress and Their Majesties the Emperor Emeritus and Empress Emerita and has earnestly carried out activities of the Imperial Family, such as visiting disaster-hit areas and promoting international goodwill. Through those activities, the people of Japan respect and revere Their Imperial Highnesses and how they engage closely with people. It is to our great delight that the Ceremony for Proclamation of Crown Prince is hereby held."
Due to the pandemic, the guest list was shortened. Some events were canceled, including a banquet, a ceremonial motorcade, and a chance for the public to sign their names in a book of well wishes.