Rain Intensifies In Disaster - Hit Kumamoto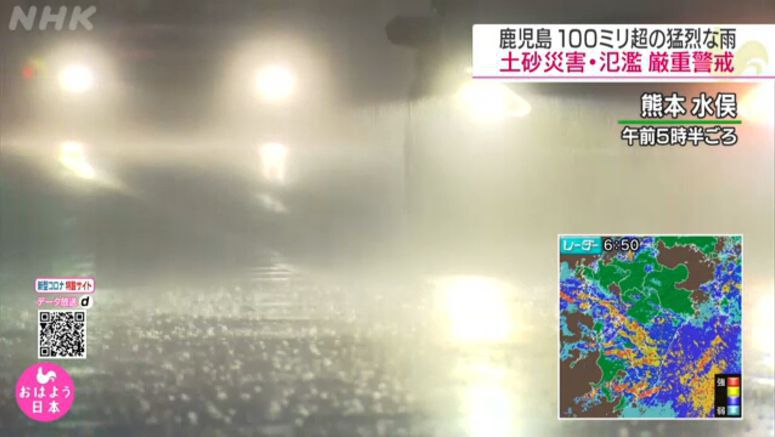 Rain is intensifying in Japan's southwestern Kumamoto prefecture, which has already suffered deadly floods and landslides triggered by record downpours over the weekend. More torrential rain is forecast for the prefecture on Monday and Tuesday.
Japan's Meteorological Agency warns that developed rainclouds have been flowing into the Kyushu region, which includes the prefecture.
In Kumamoto's neighboring Kagoshima Prefecture, 66.5 millimeters of rain fell in one of the Koshiki Islands between 3 and 4 a.m. on Sunday.
For the 24-hour period to Monday evening, up to 300 millimeters of rain is expected in the western island region of Shikoku, and 250 millimeters in southern and northern Kyushu.
Over the 48 hours to Tuesday evening, 300 to 400 millimeters of rain will fall in northern Kyushu, Shikoku and the central region of Tokai, and 250 to 350 millimeters in southern Kyushu.
A mudslide alert is now in place in areas of Kumamoto, Kagoshima, and Miyazaki prefectures.
More rain could raise the risks of further mudslides and floods in Kumamoto, where downpours have already loosened the ground and caused rivers to breach their banks.
Weather agency officials are urging people to be on high alert for mudslides, overflowing rivers, and floods in low-lying areas.