Record On Another Japan State Funeral Half A Century Ago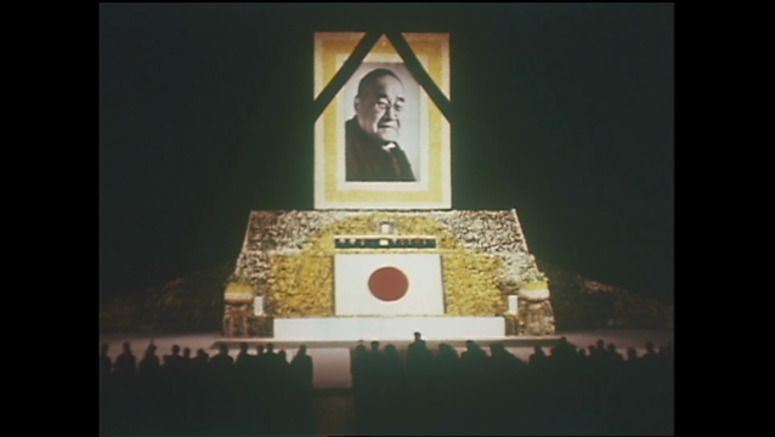 Tuesday's ceremony for Abe Shinzo is the second state funeral for a former prime minister in Japan's postwar history, following one for Yoshida Shigeru in 1967.
Yoshida's state funeral was held on October 31 of that year, 11 days after his death. It also took place at Tokyo's Nippon Budokan, and was aired live on TV.
According to the public record of the funeral, about 170,000 people witnessed a motorcade carrying Yoshida's coffin from his home in Oiso Town, Kanagawa Prefecture to the venue. Roughly 8,000 security personnel were deployed.
The state funeral was attended by more than 6,000 people. They included the then-Crown Prince and Princess, representatives from business and other fields and delegates from 72 countries.
After the ceremony, about 45,000 members of the public are said to have visited the venue to offer flowers.
The process reportedly lasted about four hours.
The record includes details of the debate held in the run-up to the event. Regarding the legal basis for the state funeral, it says the pros and cons were studied from various angles because there were no legal provisions or institutional rules about such a ceremony.
According to the record, it was concluded that a state funeral could virtually be held on the basis of cabinet approval, drawing from the example of the funeral for the wife of Emperor Taisho in 1951, which was also based on a cabinet decision.
The Cabinet approved Yoshida's state funeral three days after his death.
At the time, the government asked ministries and agencies to fly the national flag at half-staff and observe a moment of silence on the day of the funeral.
The government offices were also asked to close and refrain from holding events on the afternoon of the day of the ceremony. Schools and private businesses were asked to make similar efforts.
The Cabinet Office says Yoshida's state funeral cost a total of about 18 million yen, or about 125,000 dollars converted at today's rate. It was paid for entirely with government reserve funds.
Records from Japan's Diet show that lawmakers once debated the legal issues surrounding the state funeral after the event was over.
The records show that in 1968, an opposition lawmaker told a Lower House committee that a set of criteria was necessary to decide whether state funerals should be held.
The then-finance minister said in response that he personally thought certain criteria are necessary, as this would help settle the problem of disbursing reserve funds.
In 1969, a top official of the then-Prime Minister's Office told an Upper House committee that a set of criteria would need to be considered sometime in the future.
But in 1977, the person's successor told the Diet that future state funerals should be based on cabinet approval instead of law, as was the case for Yoshida.