Relatives Of Japanese Abducted By North Korea Meet Biden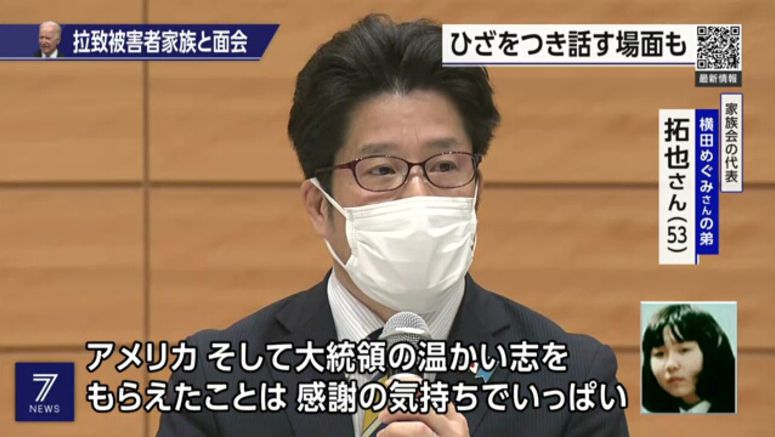 The relatives of Japanese nationals abducted by North Korea decades ago spoke to reporters following their meeting with US President Joe Biden on Monday.
Members of the group met privately with Biden for about half an hour at the State Guest House in Tokyo on Monday.
Among those that spoke to reporters after the meeting were the head of the families' group, Yokota Takuya, whose sister Megumi was abducted in 1977, and their 86-year old mother, Sakie.
They said that at the start of the meeting, Biden kneeled next to Sakie, who was seated, before speaking to her.
Biden asked if he could give her a hug and the two embraced.
Biden has lost two children. He reportedly pulled out a photo of his late eldest son, telling them of the anguish of having to part with members of the family.
Participants said Biden spoke with all the members of the group.
Sakie said Biden told the group he understood their feelings and empathized with them.
Sakie added the US president kneeled while he talked to her, which so surprised her that she stood up.
She also noted that next year, she will be the same age as her late husband when he passed away. She said she wants to see Megumi, even if only for a moment, and that she wants to realize the return of all the abductees to Japan.