Rescuers Looking For Survivors In Southern Japan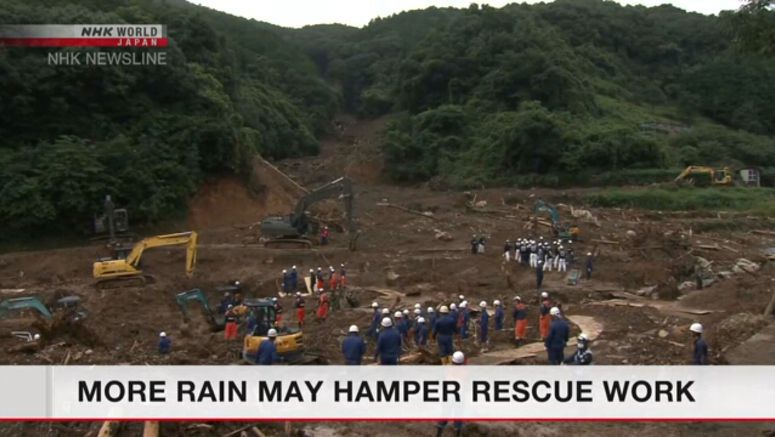 The record-breaking heavy rain in Japan has left 69 people dead, one without vital signs, and 13 unaccounted for. Most of the casualties were recorded in Kumamoto Prefecture on the southwestern main island of Kyushu.
Search and rescue operations are continuing on Sunday in Kyushu.
Rescuers used sniffing dogs and heavy equipment to look for missing people in a town in Kumamoto Prefecture. The search largely focused on the site of a landslide where a body was discovered the previous day.
In Oita Prefecture, a family of four were apparently washed into a river on Wednesday while driving.
One of them was found dead about 10 kilometers downstream from where they went missing. Rescuers are searching further down the river for the others.
Kumamoto Prefecture has seen 62 deaths as a result of the deluge. Six people remain unaccounted for.
One person was killed and five others are missing in Oita Prefecture.
Intermittent rain in western Japan is expected to intensify again on Monday.
Low pressure is also forming rain clouds over localized areas in northeastern Japan. Torrential rain is expected for the next several hours.
The Meteorological Agency is warning residents in areas damaged by the record rain of landslides and flooding as the soil is already saturated and some levees are damaged.
Some rivers in Aomori and Iwate Prefectures in northeastern Japan could overflow at any time.
Authorities have issued landslide warning information to parts of Iwate, Nagano and Miyazaki prefectures. These regions have an extremely high risk of landslides.
People doing clean-up work should take precautions against sudden changes in the weather. Residents are advised to take shelter before dark.