Research: Antibodies Last In 98% Of Infected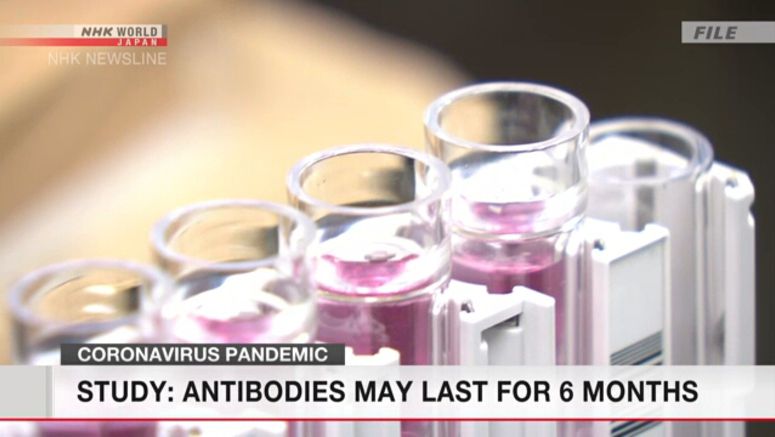 Japanese researchers say they've found in a study that 98 percent of people who were infected with the coronavirus had antibodies for at least six months. The researchers say this shows that such people are less likely to be infected again during the period.
Yokohama City University and other institutions conducted the study to find out what percentage of people maintain neutralizing antibodies.
Such antibodies are believed to weaken viral activities and prevent further infections.
The study covered 376 people between their 20s and 70s who were infected with the virus between February and May and later recovered.
Researchers analyzed blood samples taken six months after people became infected.
They found that 97 percent of people who had mild or no symptoms had neutralizing antibodies in their systems, and that the rate was 100 percent for those with moderate or serious symptoms.
They say this means that neutralizing antibodies last in 98 percent of recovered coronavirus patients.
The researchers add that stronger antibodies tended to be found in people who were in serious condition.
They say the study suggests that people with such antibodies have a lower risk of infection for at least six months. They also say the study findings raise hopes for vaccine development.
The researchers plan to carry out a follow-up study to see the level of antibodies maintained after another six months.
Professor Yamanaka Takeharu at Yokohama City University is a member of the study group. He told a news conference that the study came a step closer to shedding light on the disease, as it suggests that seriously ill patients tend to have a lower risk of infection.
But Yamanaka said having antibodies does not rule out infection. He urged that people, including those who have recovered from COVID-19, avoid closed, crowded and close-contact settings.