Researchers Report On Recovered Covid - 19 Patients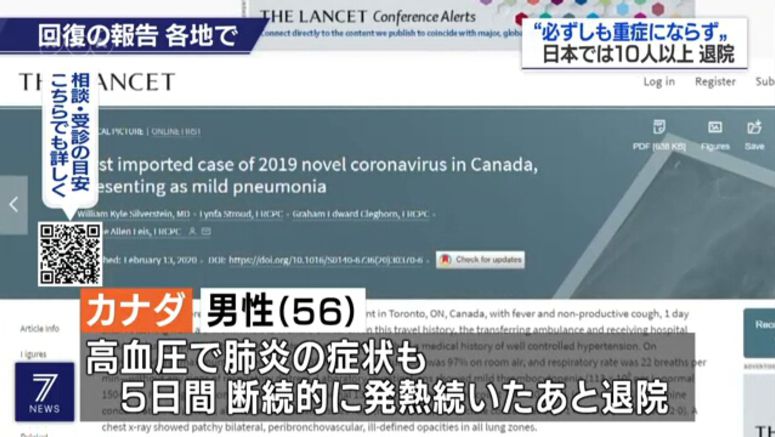 Teams of researchers from across the world have reported on how some patients infected with the new coronavirus have recovered.
A group at the US Centers for Disease Control and Prevention published a report in a medical magazine on the treatment of a 35-year-old male patient who returned from Chinese city of Wuhan, the epicenter of outbreak. He was confirmed to have been infected after complaining of coughing and a fever.
After being admitted to hospital, the man developed a fever exceeding 39 degrees Celsius and a cough.
Doctors first administered antipyretics and expectorant drugs. But after the patient contracted pneumonia, they switched to oxygen inhalation and a drug that is being developed to treat the Ebola patients.
They say the patient's condition then significantly improved, and his breathing returned to normal.
Researchers from the University of Toronto in Canada and other institutions reported to a British medical magazine on a 56-year-old male patient who was confirmed infected after developing a fever and a cough.
In addition to high blood pressure, he also had symptoms of pneumonia. But after running an intermittent high fever for five days, his body temperature went down and he was discharged from the hospital.
Another case was published by Thai doctors and others in a US medical magazine. A taxi driver in Bangkok, aged 51, was suspected to have been infected by a Chinese tourist.
The patient was in a high risk group with high blood pressure and diabetes. He had suffered a fever and a cough for more than a week.
The man then developed a high fever and light breathing difficulties, but was able to leave the hospital after being treated there for more than a week.