Restaurant Review Site Found In Violation Of Antimonopoly Law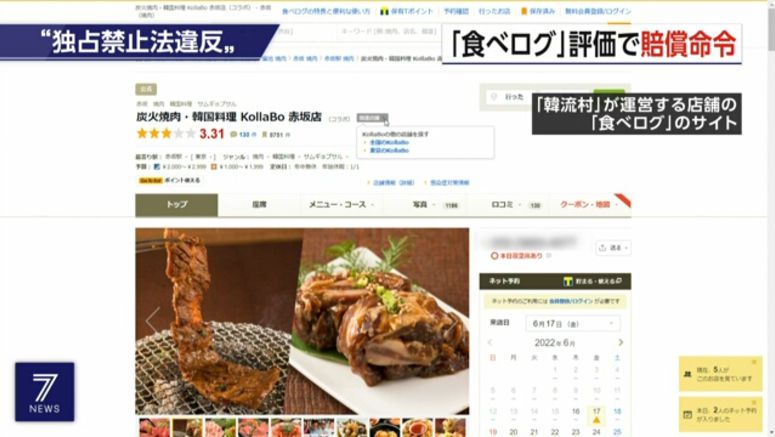 The Tokyo District Court has ruled that a popular restaurant review website violated the antimonopoly law by changing its rating system, causing a drop in sales for a restaurant chain.
The court on Thursday ordered Kakaku.com, the operator of the site Tabelog, to pay the equivalent of more than 280,000 dollars in compensation to the operator of barbecue restaurant chain Hanryumura.
Hanryumura was suing Kakaku.com for damages equivalent to about 4.5 million dollars to compensate for the sales loss. The plaintiff claimed that it lost over 5,000 customers a month after Tabelog changed the computer algorithm of its rating system three years ago. It said the change uniformly lowered points given to all restaurant chains.
In Thursday's ruling, presiding judge Hayashi Fumitaka pointed out that restaurants largely rely on the review site for their business, and therefore have no choice but to accept whatever request the site makes.
The judge said the change was made unfairly, disadvantaging restaurants and constituting abuse of dominant bargaining power in violation of the antimonopoly law.
The lawyer for Hanryumura told a news conference that they believe the ruling shows acceptance of almost all of their argument. He also pointed out that the chain has been forced to close 8 outlets since April due to falling sales.
The lawyer also said Tabelog and similar search sites can wield enormous influence on restaurants, so they should ensure transparency and fairness in their operations. He added that they plan to appeal the ruling over the size of compensation.
Kakaku.com said on its website that it will examine the ruling in detail before deciding how to respond.