Signboards Created For Kyoto Yearend Kabuki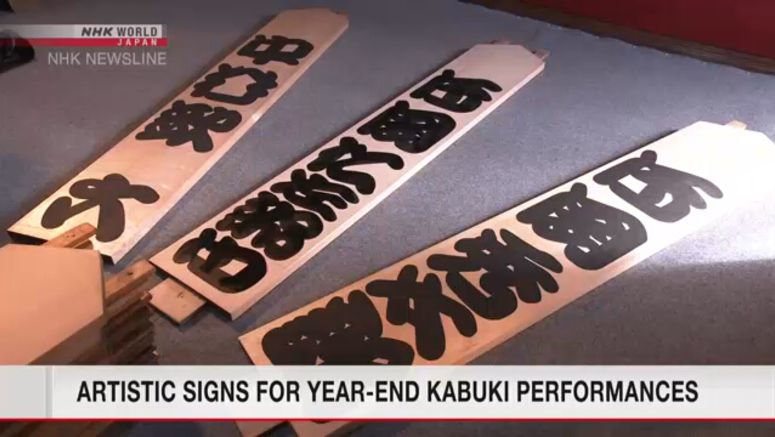 Special signboards with the names of the Kabuki actors starring in yearend performances at Kyoto's Minamiza Theater are being created at a temple in the western Japanese city.
About 40 "maneki" signboards are being prepared at Myodenji Temple. The boards are about 2 meters long.
On Friday, calligrapher Inoue Masaru wrote the name of a living national treasure, Kataoka Nizaemon, in a calligraphic font.
The tradition of "maneki" signboards dates back to the Edo Period from the 17th to the late 19th century.
The names of performers are written in a style called "kantei-ryu." Characters written in the style are thickly brushed to leave hardly any space between each line, in the hope that the theater will be filled just as the characters fill the space.
This year, the number of seats will be reduced, and the performance time will be shortened, in order to prevent the spread of the coronavirus. Fans will also be asked to refrain from shouting in the traditional way during performances.
Inoue said he was happy that the tradition was being maintained despite the coronavirus. He added he hopes many people will attend the performances despite fewer seats.
The signboards will be put up in front of the theater in late November. The yearend performances will run from December 5 through 19.