Special Syringes May Increase Covid Vaccinations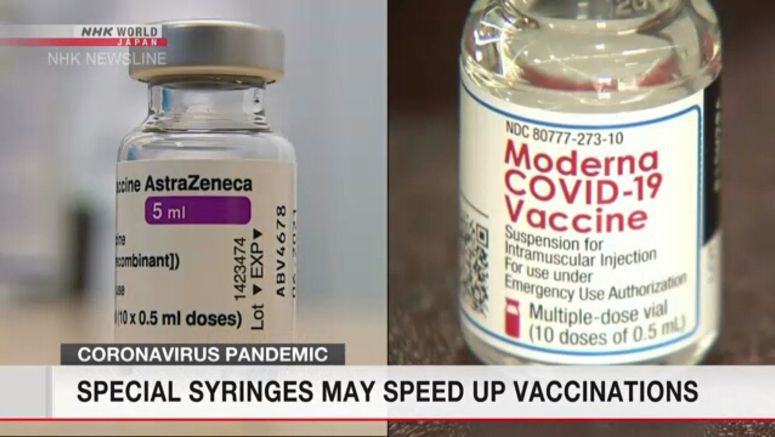 NHK has learned that special syringes could increase the number of doses per vial for COVID-19 vaccines developed by British and US companies.
Japan's health ministry has signed a contract with British drug company AstraZeneca for 120 million doses. It also made a deal to buy 50 million doses from US biotechnology firm Moderna. The ministry is currently examining the vaccines developed by the firms.
Health officials and drug makers in both countries say special syringes can get an extra dose per vial for the AstraZeneca and Moderna vaccines.
British and the US health authorities recommend the number of full doses at basically 10 per vial. Japanese health ministry officials say they are looking into the use of special syringes that can increase the number of doses per vial to 11. But they reserved comment on the matter as approval processes have not yet been completed.
Japan began COVID-19 inoculations for medical workers in February using the Pfizer-BioNTech vaccine. But Japanese health officials found that conventional syringes can only take five doses from a vial instead of six, which they had first assumed. The officials are working to secure special syringes capable of six doses, but international demand is expected to increase.
It is believed that increasing the number of inoculations will lead to a substantial increase in supply and speed up the schedule for vaccinations.