Suga, Bach Renew Comment To Hold Tokyo Games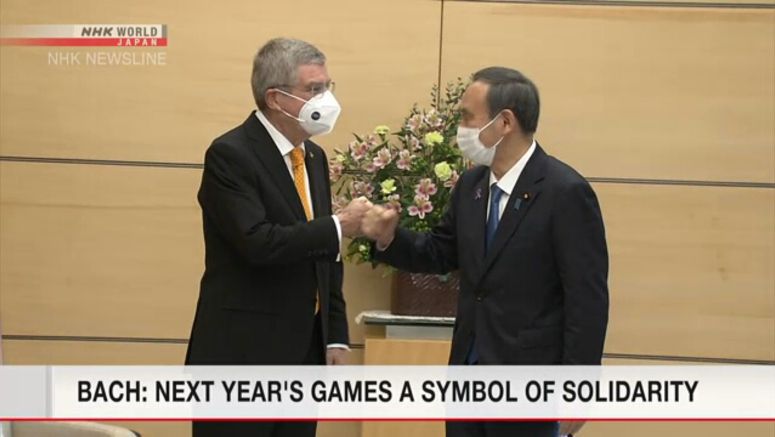 Japanese Prime Minister Suga Yoshihide and International Olympic Committee President Thomas Bach say they will work together closely to hold the Tokyo Olympics next year.
The two met at the prime minister's office on Monday. Bach is visiting Japan for the first time since the decision was made in March to postpone the Tokyo Olympic and Paralympic Games until next year due to the coronavirus pandemic.
Suga said he is determined to realize the Olympics and Paralympics as proof that humans have overcome the virus and also as events that will show Japan's reconstruction from the 2011 earthquake and tsunami .
Bach thanked the prime minister for showing his strong commitment to the Tokyo Games, and said he shares that resolve. Bach said the Tokyo Games will contribute to the whole world, and stressed that he will make sure the Games will be successfully held.
Bach said the Games will be "a symbol of solidarity and unity of humanity in this world, which by then hopefully will be a post-coronavirus world."
Bach added that humankind are in the middle of a tunnel now but that the Olympic flame will be seen at the end of the tunnel.
Suga briefed Bach on measures against infections ahead of the Tokyo Games. He said Japan has started a framework to allow foreign athletes to take part in competitions even during a 14-day quarantine period after entering Japan.
He also said more spectators than the current cap have been allowed for Japanese professional baseball games just to examine how anti-infection measures would work in large venues.
The prime minister added that the government is studying the limit on spectators numbers and anti-virus measures based on the assumption that spectators will attend the Games.