Suga Discusses Recovery With Fukushima Residents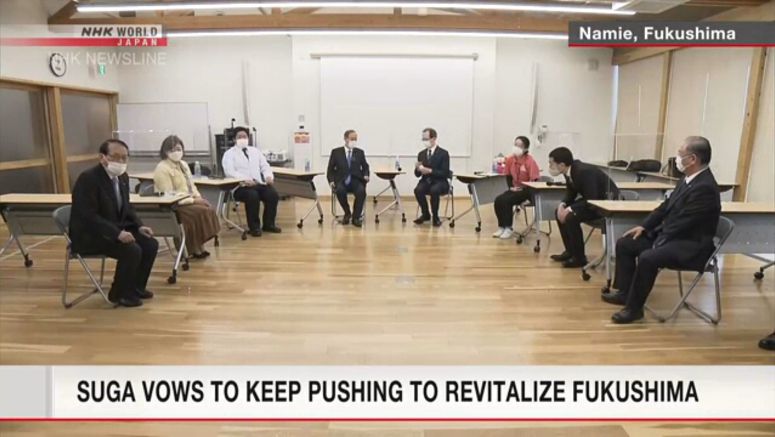 Japanese Prime Minister Suga Yoshihide has talked with residents in Fukushima Prefecture about ongoing recovery efforts from the 2011 earthquake, tsunami and nuclear accident.
Suga visited the prefecture on Saturday in the lead up to the 10th anniversary of the March 11 disaster. He first visited two towns where the damaged Fukushima Daiichi nuclear power plant is located.
He then laid flowers and observed a moment of silence at a cenotaph on the coast of Namie Town, parts of which were ravaged by tsunami.
Suga inspected the world's largest-class hydrogen production facility... the Fukushima Hydrogen Energy Research Field... which began operations in the town last year.
In the afternoon, Suga talked with local residents.
Fifty-seven-year-old Igarashi Rieko returned to Minamisoma City and rebuilt her home and business. She informed Suga that she used to give him a haircut in a Diet members' building when she was working in Tokyo as an evacuee.
Another resident was 35-year-old Higashiyama Haruna who moved from Kyoto Prefecture to Namie Town. Higashiyama is the head of the town's "Michi-no-eki," a roadside facility where people, including travelers, can rest and enjoy local products and culture.
Higashiyama said many innovative schemes are springing up in the town. She said she hopes that her facility can boost information and promote conversations.
Suga said he felt that the recovery in Fukushima has gained momentum through the interaction between locally born people and those coming from outside.
Suga also inspected the Fukushima Robot Test Field, which is part or the reconstruction industrial park in Minamisoma City. He observed waterfront rescue training and a drone operation class.