Suga Meets With Fisheries Rep. Over Wastewater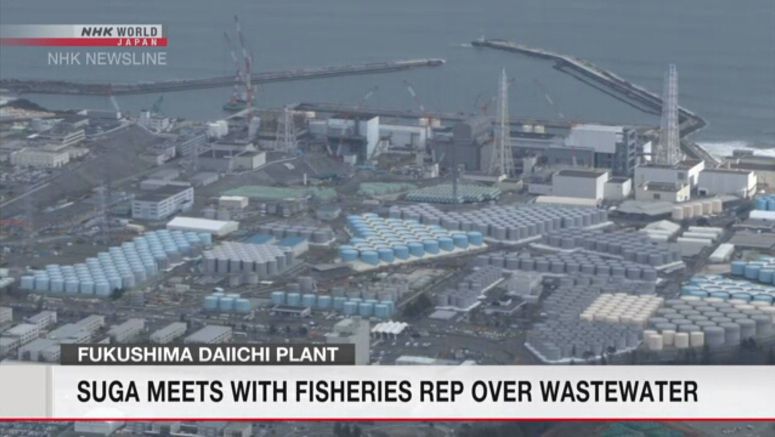 In Japan, a decision on disposing of massive amounts of wastewater from the crippled Fukushima Daiichi nuclear power plant could be close to being finalized. Prime Minister Suga Yoshihide says his government will set a policy based on expert proposals.
Suga made the remark when he met the head of a national organization representing fisheries, a sector worried that one option -- dumping the wastewater into the sea -- could potentially impact their livelihoods.
Japan Fisheries Cooperatives President Kishi Hiroshi said, "The prime minister referred to experts' suggestions that releasing the water into the sea is a more feasible, practical solution. He said the government will decide its policy based on the proposals."
The Fukushima Daiichi plant is producing 140 tons of contaminated water every day. The water is used to cool molten nuclear fuel. And it is mixing with rainwater and groundwater flowing into damaged reactor buildings. The water is treated, but it still contains tritium and some other radioactive substances.
More than 1,000 tanks have been built in the compound. The operator of the plant, Tokyo Electric Power Company, says they will be filled up next year, meaning the clock is ticking on a decision over the wastewater.
A government panel of experts last year suggested diluting the contaminated water to an acceptable level and then releasing it into the sea or air.
The head of the International Atomic Energy Agency said the proposed methods are technically feasible and in line with international practice.
But local fishermen are concerned it could trigger baseless rumors about the safety of marine products.
Japan Fisheries Cooperatives President Kishi said, "We've been consistently telling the government that we are totally opposed to the marine release. Our stance hasn't changed a bit."
The experts' suggestions have also sparked concerns from China and South Korea.