Suga: No Immediate Need For New State Of Emergency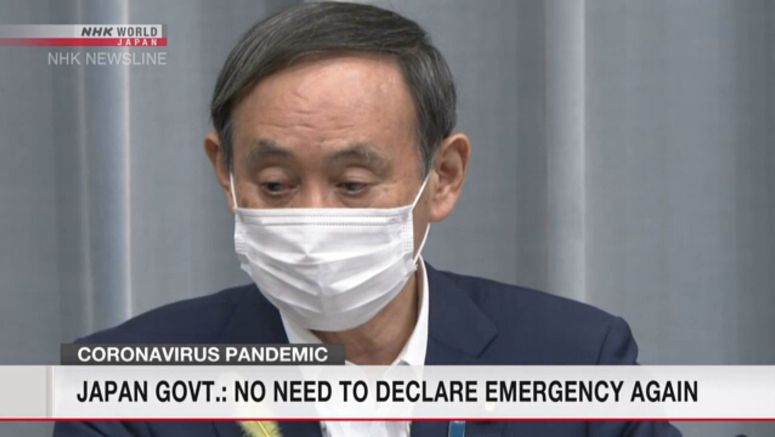 Japan's Chief Cabinet Secretary Suga Yoshihide says the government has no plans to immediately declare a state of emergency again despite a rise in new cases of the coronavirus in Tokyo.
Suga told reporters on Monday that recent confirmations of new cases at certain levels, mainly in Tokyo, are a result of enhanced testing of those who have come into close contact with infected people.
Tokyo reported 60 new cases on Sunday, the largest daily figure for the capital since the state of emergency was fully lifted on May 25. Around 100 cases have been confirmed daily across the nation in recent days.
Suga said the situation does not warrant the immediate declaration of another state of emergency or asking people to refrain from traveling across prefectural borders.
He said the government will try to prevent the spread of the virus while allowing social and economic activities to continue, by maintaining close cooperation with local governments and by monitoring the infection situation in each region.
Asked about the prospects for the summer, Suga said the coronavirus has spread in the Middle East and other regions with high temperatures. He also said that no consensus has yet been reached on whether summer temperatures will slow the transmission of the virus.
Suga added that the government will do its utmost to prepare for a possible second wave of infections.