Suga Seeks Close Cooperation With Vietnam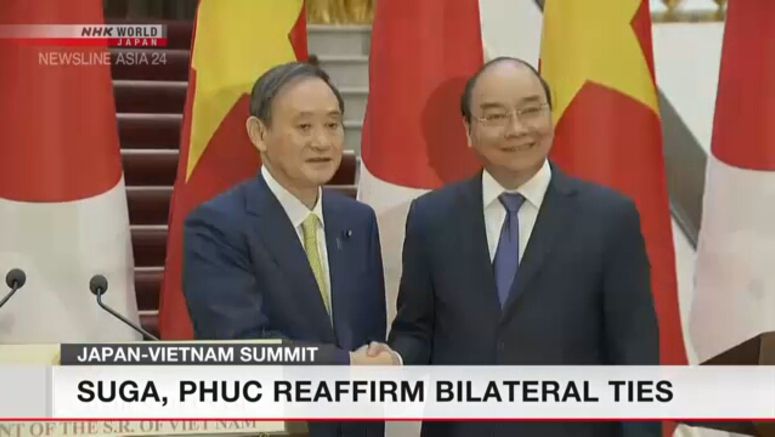 Japan's Prime Minister Suga Yoshihide has asked his Vietnamese counterpart, Nguyen Xuan Phuc, for close cooperation to realize a free and open Indo-Pacific.
Suga made the request in talks with Phuc in Hanoi on Monday. The summit was held after a ceremony to welcome the new Japanese leader.
Phuc said at the start that the two countries are strategic partners. He said Vietnam hopes to join forces with Japan for the peace and stability of the region.
The Vietnamese prime minister also said he wants to discuss a broad direction for enhancing bilateral ties to a new height.
Suga told Phuc that Japan has made clear its intention to proactively engage in the Indo-Pacific region, including the Association of Southeast Asian Nations, with a vision of a free and open Indo-Pacific.
He said his administration will continue to maintain this stance.
Suga added that he hopes the two countries will jointly contribute to the development and prosperity of the Indo-Pacific region.
The leaders were expected to confirm their cooperation to realize the vision, apparently with China's increased activities in the South China Sea in mind.
They were also believed to have exchanged views on economic cooperation, including strengthening supply chains to secure masks and other products for Japan, as the coronavirus pandemic continues.
The resumption of business travel between Japan and Vietnam was also thought to be on the agenda.
This is Suga's first overseas visit since taking office. He is scheduled to go on to Indonesia on Tuesday.