Suga Sends Ritual Offering To Yasukuni Shrine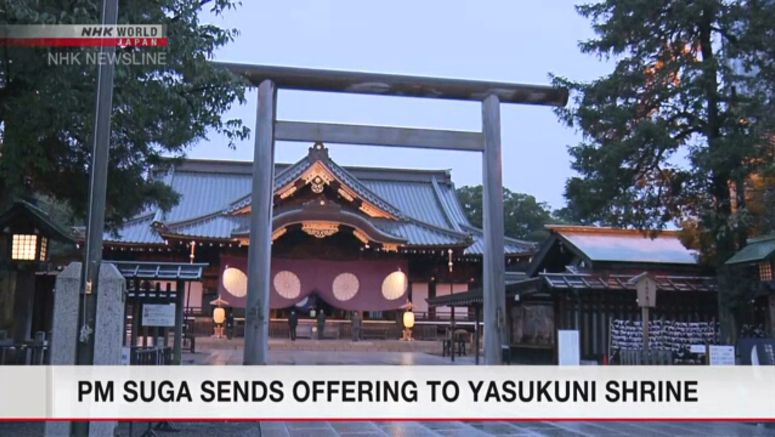 Japanese Prime Minister Suga Yoshihide has sent a ritual offering to Yasukuni Shrine to mark the two-day autumn festival.
Suga sent a potted plant to the shrine on Saturday.
The shrine honors Japan's war dead. Those remembered include leaders convicted of war crimes after World War Two.
His predecessor Abe Shinzo offered potted plants for the spring and autumn festivals while he was in office. Suga reportedly did not send offerings when he was Chief Cabinet Secretary.
Lower House Speaker Oshima Tadamori, health and welfare minister Tamura Norihisa, and the minister in charge of the international exposition, Inoue Shinji, also sent offerings for the autumn festival this year.
South Korea expressed deep regrets over the repeated tribute to the Yasukuni Shrine. A foreign ministry spokesperson said in a statement that the shrine glorifies Japan's history of wars of invasion and honors war criminals.
The statement also called on Japan's new Cabinet leaders to "face history squarely and humbly" and respond to calls for the future-oriented development of bilateral relations.
China's state-run Xinhua News Agency reported on the Japanese leaders' offerings on Saturday.
It quoted Japanese media as saying Suga is believed to have followed the way of his predecessor former Prime Minister Abe Shinzo, while he did not do this when he was Chief Cabinet Secretary.
The news agency criticized the move, saying China strongly opposes Japanese politicians' "mistaken actions".
The Chinese government has not made an official comment.