Suga To Deliver Policy Speech At Diet Session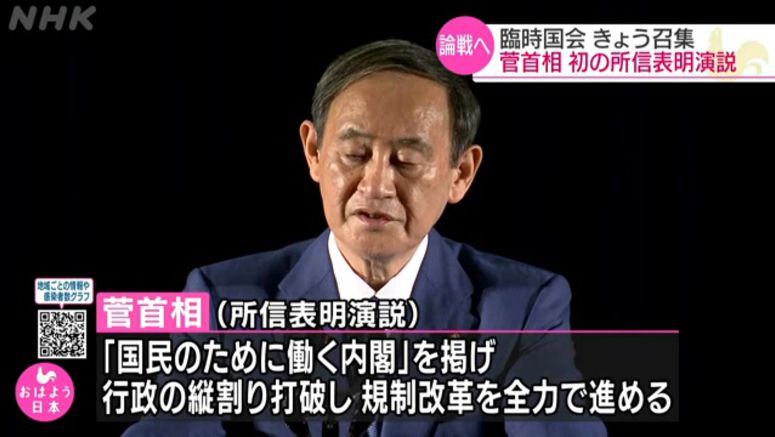 Japan's Prime Minister Suga Yoshihide is to deliver a general policy speech on Monday when an extraordinary session of the Diet opens.
This will be the first Diet session since Suga took office in September.
The prime minister will explain his Cabinet's key policies after the opening ceremony. The ceremony will be held in the afternoon. Emperor Naruhito will be in attendance.
Suga is expected to express his resolve to carry out administrative reforms and deregulation. He is also expected to explain his anti-coronavirus measures and his plans for the economic recovery.
Regarding the goal of achieving a carbon-free society, Suga will likely reiterate that Japan should aim to effectively bring greenhouse gas emissions down to zero by 2050.
His policy speech will be followed by question and answer sessions in both the Lower and Upper Houses. Those sessions are scheduled to be held between Wednesday and Friday.
During the 41-day session that will run until December 5, the ruling coalition parties plan to seek the Diet's approval for legislation to secure vaccines for the coronavirus and to effectuate the Economic Partnership Agreement between Japan and Britain.
The opposition parties plan to ask about the government's responses to the coronavirus pandemic and economic recovery measures.
The opposition camp is also expected to ask Suga why he refused to appoint six scholars as members of the Science Council of Japan, one of the country's top academic bodies.