Suga To Explain Key Policies In Diet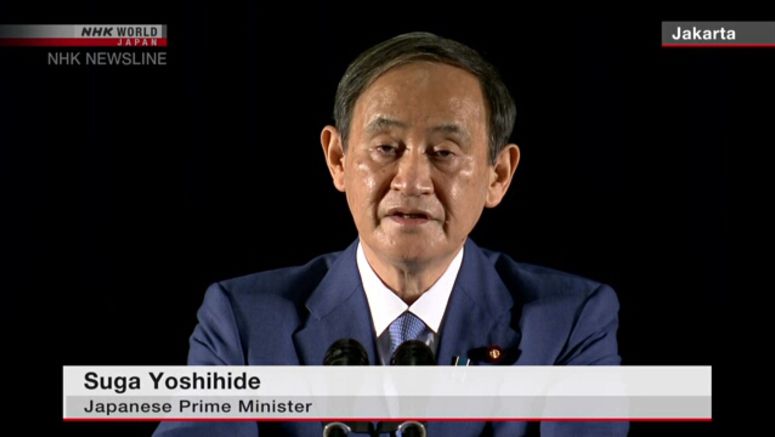 Japanese Prime Minister Suga Yoshihide plans to explain his Cabinet's key policies in the extraordinary Diet session to be convened next Monday.
Suga told reporters in Indonesia on Wednesday that when he ran for president of Japan's main governing Liberal Democratic Party, he pledged to balance anti-coronavirus measures and economic recovery.
He said he will explain in his general policy speech what he plans to do in preparation for the post-coronavirus world, such as launching a digitalization agency, health insurance coverage for infertility treatments and creating a green society.
Suga also referred to his refusal to appoint six new members to the Science Council of Japan.
He said he has called for a comprehensive selection of candidates so that they would be able to engage in balanced activities from a wide perspective. He noted it's important that the public understand the process of selecting members of a government-funded institution.
Suga said he and Science Council President Kajita Takaaki agreed last week to improve the body, which is a gathering of top researchers from various fields, so that the public would understand and support it.
He added that Science and Technology Policy Minister Inoue Shinji will be in charge of those efforts.
Suga also said the issue of disposal of radioactive wastewater from the damaged Fukushima Daiichi nuclear plant cannot be put off forever. He said the government will assume responsibility and decide on the means of disposal as soon as possible.
The prime minister said the government has not decided at this point which method of disposal it will use and when it will make that decision.
He said the government will discuss the matter thoroughly, taking into account past debates and opinions. He also promised to deal firmly with damage that could arise from misinformation about radioactive wastewater.