Suga To Meet With Chinese Foreign Minister Wang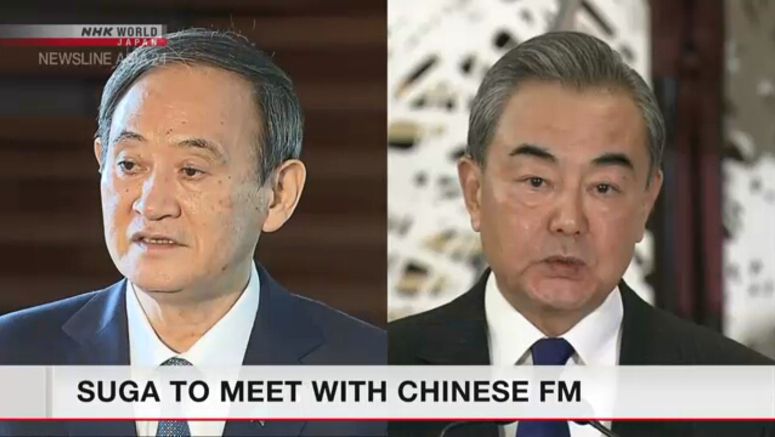 Japanese Prime Minister Suga Yoshihide will meet with Chinese Foreign Minister Wang Yi in Tokyo later on Wednesday. Japan is aiming to continue high-level bilateral talks.
Wang is the first Chinese high-ranking official to visit Japan since the launch of Suga's Cabinet.
The meeting comes at a time when concerns are growing over China's maritime activities in the East and South China Seas. Human rights issues in Hong Kong have also become an agenda.
On Tuesday, Wang met with Japanese Foreign Minister Motegi Toshimitsu.
Motegi and Wang agreed that the two nations will work together to control the coronavirus pandemic.
They also decided to resume allowing business trips between Japan and China by the end of November.
Motegi explained Japan's position on the Senkaku Islands, where Chinese vessels repeatedly enter.
Motegi urged China to take the matter seriously, but Wang reportedly reasserted his country's sovereignty over the islands.
Japan controls the islands. The Japanese government maintains the islands are an inherent part of Japan's territory. China and Taiwan also claim them.
During the talk, Motegi conveyed his concern about recent developments in Hong Kong, including disqualification of four pro-democracy lawmakers from the territory's Legislative Council.
Motegi also urged China for more transparency about its policy in the Xinjiang Uygur Autonomous Region.